Joint Health Guide
Even though joints stiffen as we age, many supplements effectively support joint health, making it our #1 category of best-selling products. Finding the supplement that benefits you the most can be a challenge, though, and it may come down to personal trial and error. Take a closer look at some of our best selling categories of joint health products!
Glucosamine
Glucosamine, a naturally occurring substance in our bodies that stimulates the production of cartilage and keeps joints resilient, is one of the more popular and respected natural products for joints. It provides the natural building blocks for maintaining strong, healthy cartilage and mobile, strong and flexible joints. The most popular glucosamine supplements are derived from the shells of fish, crab and lobster, but there are also several non-fish sources of glucoasmine out there for vegans and vegetarians.
Glucosamine is currently available in two forms: glucosamine sulfate (2KCl), which is glucosamine bonded to a salt of potassium chloride, and glucosamine HCl, which is glucosamine hydrochloride. Glucosamine sulfate is most often used in clinical trials that have demonstrated the supplement's effectiveness. However, in a sodium- or potassium-restricted diet, the use of glucosamine HCl, which is also highly effective, is recommended instead of glucosamine sulfate.
Glucosamine is also found in combination with other ingredients like MSM and chondroitin. MSM is a natural source of sulfur, a natural component of healthy joint tissue, and chondroitin supports the health of synovial fluid in the joints.
So, how does one choose a glucosamine supplement from the many products offered on our site? Here are some of our top selections based on sales, research and customer recommendations.
MicroLactin
MicroLactin is very different from glucosamine. Essentially, it is a protein found in milk comprising unique bioactive micronutrients. Using a patented process that isolates and concentrates these natural proteins in sufficient quantities, MicroLactin is then encapsulated. It contains only tiny amounts of lactose and presents no problem for those who are lactose-intolerant. MicroLactin is completely natural, and it is derived from grass-fed cows that haven't been near additives like Bovine Growth Hormone.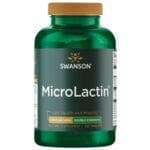 SWU241 •
1,000 mg 120 Tabs
MSRP

$23.49

Swanson

$17.79
noticed more comfort in my knees while taking this supplement — taxidad
this has made me very happy. this Swanson product has done what it said it would! I have recommended it to sooo many people. It is reasonably priced, effective, and easy to get. . . . — cherylmarie
Hyal-Joint
Supplements for joint health primarily focus on providing nutritional support for cartilage, but joints have another vital component as well: synovial fluid, which keeps them lubricated to reduce friction during movement. What glucosamine does for cartilage, hyaluronic acid does for synovial fluid, which is the main ingredient in Swanson Ultra Hyal-Joint. The unique formulation in Hyal-Joint has the proven ability to absorb in the intestinal tract, and it has also demonstrated significant joint-protecting properties. This is a great supplement to pair with glucosamine, chondroitin or MSM for even more benefits.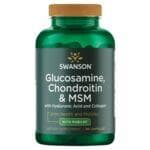 MSRP

$31.49

Swanson

$23.49
"felt a difference in a short time — Rose"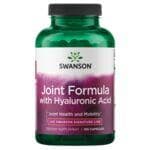 MSRP

$35.49

Swanson

$24.49
this stuff works FANTASTIC for joints! — anonymous
Celadrin
Celadrin has received glowing reports from studies in medical journals and people who use it. Celadrin is an esterified fatty acid supplement that addresses joint health on the cellular level. A 2004 study found that all 40 participants received considerable benefits from the Celadrin topical cream. For maximum results, pair the cream with Celadrin softgels. If you're wondering whether or not to replace your present glucosamine supplement with Celadrin, the answer is no. A better option is to use them together since Celadrin complements glucosamine, enabling it to perform faster and more efficiently to promote joint cartilage health.
definitely noticed an improvement in mobility while taking this supplement — BetsyO