Returns
Swanson Health Products offers a full refund for products purchased within the last 12 months. Return the unused portion with a listed reason for the return to the address below. All returns valued at $500 or more will be subject to a 20% restocking fee.
Refund is for the cost of the product(s) returned plus any standard, domestic return shipping charges incurred. Initial shipping charges are not reimbursed. Returns may be refused on an individual basis due to repeated patterns indicative of abuse. Exchanges are not available online. Empty bottles aren't accepted.
To easily begin the return process, create a return address label.
You can either print the label directly from your browser or have it emailed to you. To print, make sure to turn off any pop-up blockers as the label will open in a new window.
Cut the label in half at the point indicated by the scissors or dotted lines. Fill out the bottom half and include it in the package with the item(s) being returned. Affix the top half to the package and mail to the following address:
Customer Service Center
Swanson Health Products
P.O. Box 6003
Fargo, ND 58108-6003
You may also use the merchandise return label on the back side of your invoice.
Credit card orders will be refunded by the card used for your most recent purchase of each specific item. Check and money order purchases will be refunded by check.
Tracking Your Return
To track your package, enter your Tracking Number on the return label you generated:
If using your invoice, your tracking number is located under Step #1: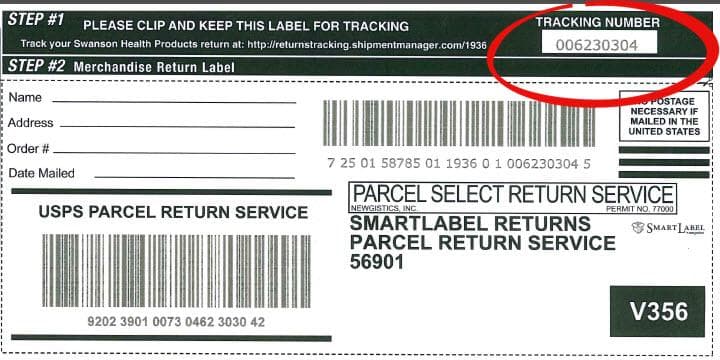 If you have questions about our returns or about a specific return, email us at Email Us or call our Customer Service Center at 1-800-824-4491.
Save
Save
Frequently Asked Questions
Can I return an empty bottle?
Unfortunately, we are unable to accept completely empty bottles for return, however we would be happy to accept any unused portion of a product for a full refund within 1 year of the purchase date.