Returns
Your Return Is On Us.
Wellness is a journey that's enhanced by exploring the latest ways to meet your health goals. If you've ordered a product that isn't quite right, simply return the unused portion within 30 days from date of purchase for a full refund. Please note that all returns valued at $500 or more are subject to a 20% restocking fee.
Our wellness advocates are available to listen to your concerns, answer product questions, and guide you toward the best solution. Call 1-800-437-4148 to talk, or follow these simple steps:
To easily begin the online return process, create a return address label. *Note: An order number is necessary to complete the online process.
Step 1: Postage is pre-paid, just clip and keep the tracking number to track your returned package online.
Step 2: Fill in the 'Return Address' section of the SmartLabel® Merchandise Return Label.
Step 3: Fill in the 'Customer Information' section of this form.
Step 4: Fill in the Return Product Information and Return Code sections, then enclose the completed form with the opened or unopened product.
Step 5: Affix the completed SmartLabel® to your package and remove other address or barcode information on the box before returning to the U.S. Postal Service.
Refunds will be credited to the original payment method within two weeks after we receive your return.
Tracking Your Return
To track your package, enter your Tracking Number by excluding any leading zeros, located in the upper right hand corner of Step #1: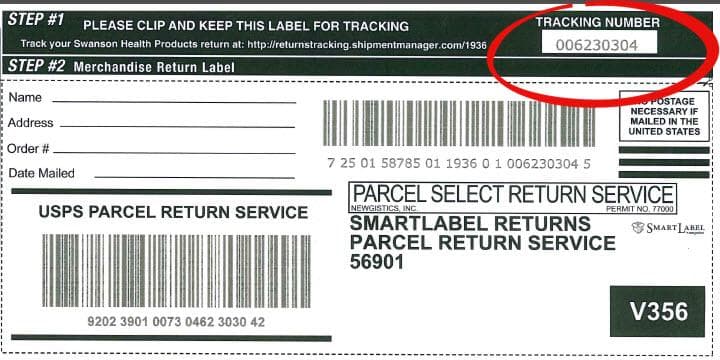 If you have questions about our returns or about a specific return, email us at Email Us or call our Award-Winning Customer Service Center at 1-800-824-4491.
Save
Save