Tart Cherry Extract
Tart Cherry Health Benefits: Potent Antioxidant Protection
"My Tart Cherry capsules will help your joints feel better."
Lee Swanson, President of Swanson Health Products
I feel very pleased when I discover a product that is complex in its areas of benefits for the user, but simple in its use and form. I have found such a product in my HiActives Tart Cherry Extract. Cherries, though small in size, provide huge support for several areas, especially cardiovascular and joint health.
Cardiovascular and joint health are among the top health concerns of people in the U.S. today, especially with our aging population. The U.S. health care system could save millions of dollars over a five-year period if citizens at risk of becoming dependant on the health care system would act now. One of these areas of concern was cardiovascular health.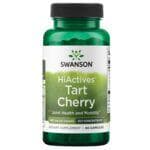 MSRP

$12.49

Was

$8.99

$6.74
Below I've provided information about tart cherries and the health benefits associated with supplemental tart cherry. Read further to discover how tart cherries are an amazing way to promote joint, cardiovascular, and overall health.
What are tart cherries?
There are two categories of cherries: sweet and sour. There are different varieties within the sweet and sour categories as well. It is the sour cherries that are considered to have the most health-beneficiary components and where the most research has been accomplished. Cherries in general are plentiful with nutrients such as pectin (a soluble fiber known to help promote healthy blood cholesterol levels already within the normal range), vitamin C, and beta-carotene. Sour cherries, sometimes also called "pie cherries", have considerably more vitamin C than sweet cherries.
What are the health benefits of tart cherry supplements?
Cherries are high in flavonoids, especially anthocyanins (it's what gives fruits and vegetables their vibrant colors), which have health-promoting properties. Anthocyanins are powerful antioxidants that can aid areas such as joint health, cardiovascular health, and overall health benefit. Take, for instance, people who typically eat a "Mediterranean" style diet which contains high levels of proanthocyanins, catechins, and anthocyanins. These people are noted for their good health and longevity. Tart cherries are particularly high in proanthocyanins and anthocyanins.
Tart Cherry Supplements and joint health
Researchers from Michigan State University have found that anthocyanins may play a large role in promoting joint health. In fact, researchers at the USDA Human Nutrition Research Center in Davis, California, did a study on women who ate 45 cherries every morning. The study showed a decrease in nitric oxide, and although this decrease wasn't incredibly significant, it did offer possibilities suggesting a connection between tart cherries and joint health. Flavonoids also promote strength in collagen, the fibers of connective tissue which include tendons, cartilage, and other structural tissues. Also, flavonoids have shown benefits in helping to metabolize uric acid.
Tart Cherry Supplements and cardiovascular health
The same reasons for tart cherry benefits in joint health also support cardiovascular health. Just 20 cherries provide enough flavonoid compounds (anthocyanins) that can significantly promote free-radical protection. Latest research suggests that anthocyanins do a better job of protecting arteries than vitamin C or E alone. Also, Brunswick Laboratories in Wareham, MA, discovered that tart cherries also contain compounds called SOD (super oxide dismutase) which are thought to act as scavengers of free radicals. This was a significant study because very few natural foods contain SOD, which means the body often lacks health-beneficial levels. A 1996 Harvard study reported that men in particular should eat more flavonoid-rich foods for cardiovascular health.
What is the benefit of tart cherry in this form?
In order for the average person to get the recommended amounts of flavonoid content from eating cherries, they would have to drink or eat the equivalent of 16 ounces or half a pound of cherries. Real cherry juice that isn't loaded with sugar or is mostly water is hard to find and eating half a pound of cherries may not be possible in the off-growth season.
Just one capsule of Swanson Superior Herbs HiActives Tart Cherry Extract provides a minimum of 1% flavonoids for an all-natural, potent antioxidant protection. For your heart and joints, make HiActives Cherry Extract part of your daily nutritional plan.
View All Tart Cherry Supplements.