Eggshell Membrane
Natural Eggshell Membrane: Joint Health Option Promises Results in Record Time
Have you ever started to peel a hard-boiled egg only to be met with frustration at that tenacious membrane underneath the shell? It may be thin and colorless, but that's one tough tissue. And while we may curse it because it stands between us and a perfectly peeled egg, the eggshell membrane is a profound source of nutrition that deserves recognition. It's the basis of NEM,® or Natural Eggshell Membrane, a groundbreaking nutraceutical ingredient for joint health and comfort that can help restore your active lifestyle in as little as 10 days.
Unique composition perfect for joint nourishment?
Anyone who can relate to the scenario described above knows just how resilient eggshell membrane can be. The membrane is, in essence, a connective tissue. It's made up of many of the same substances found in human connective tissues like those in the joints. Glucosamine, chondroitin, collagen and hyaluronic acid are all recognized components of healthy joint tissues. They're also part of eggshell membrane! In the eggshell membrane, nature has created the ultimate formula for strong yet pliable connective tissue, binding the aforementioned ingredients together with glycosaminoglycans, calcium and proteins in a unique biological matrix.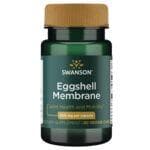 SWU487 •
500 mg 30 Veg Caps
MSRP

$27.49

Was

$19.89

$14.91
One source. All natural. Environmentally friendly.
Unlike other products for joint health, NEM delivers all the primary nutrients joints need from a single food source. No shellfish. No bovine cartilage or rooster comb extracts. The simple egg held the answer all along! Would you believe that Americans throw out over 455,000 tons of eggshells every year? Most of them end up in landfills, and while they do return to the earth over time, that volume surely takes up a lot of space. That's why scientists set out to find new uses for eggshells and soon discovered the hidden potential of the eggshell membrane. NEM is produced from eggshells used in the liquid egg products industry. All shells come directly from USDA-inspected facilities. In fact, every eggshell is 100% traceable all the way back to the farm! Plus, NEM is produced through an all-natural, solvent-free process that produces no waste products and yields a pure ingredient that contains no artificial additives, no preservatives and no pesticides or chemicals of any kind.
Rapid results recorded in preliminary research
The developers of NEM are committed to scientific validation and have undertaken a variety of studies to document the potential benefits of their unique nutraceutical. One study performed with 67 men and women using a double-blind, placebo-controlled model recorded noticeable benefits toward joint comfort and function beginning within 10 days and lasting through the end of the 60-day trial. Another study, in which 26 people knew they were taking NEM, found benefits for comfort and range of motion after just seven days, with the effects again lasting for the duration of the study (30 days). Further trials are underway now.
Set your timer for freedom
If you're concerned about your joints, if you're serious about staying active, it's time to put NEM to work for you. Even if you're already taking supplemental nutrients to nourish your joints, you'll want to consider NEM as an addition to your natural wellness program. NEM is pure, natural and comes from just one food source—not many supplements can say that. Plus, NEM works fast.