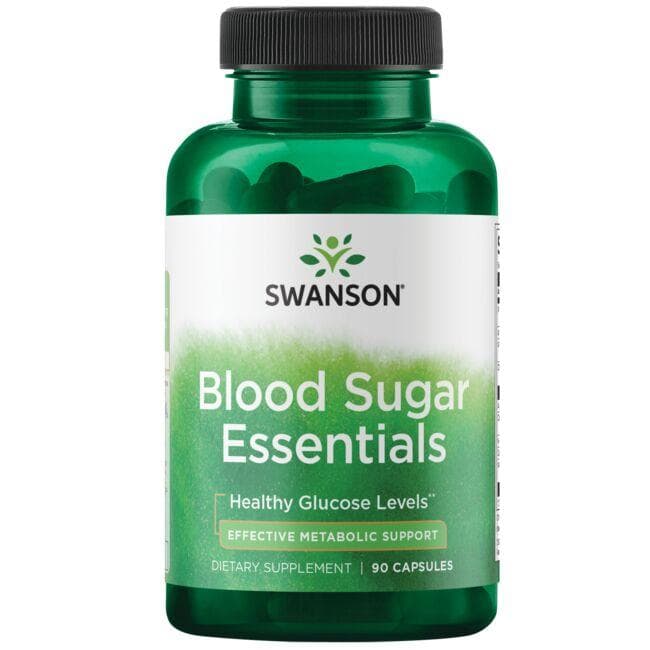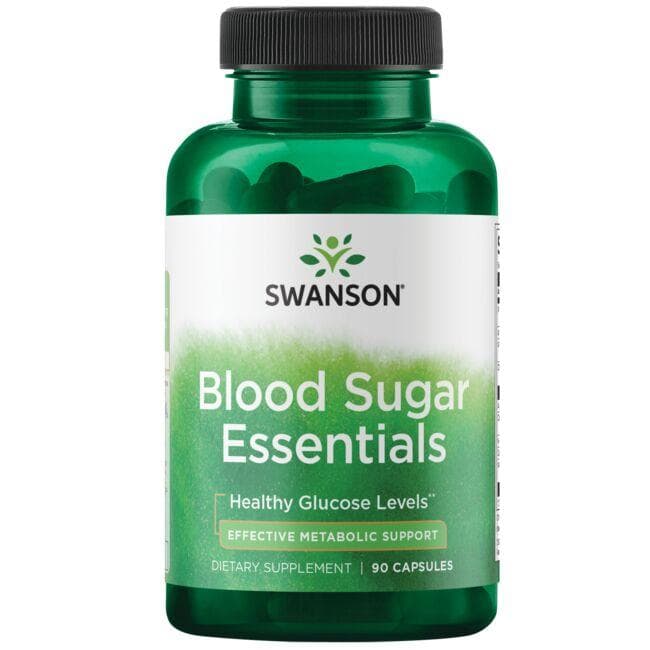 size
Serving Information
Serving Size: 1 capsule
90 servings per container
capsule size: OO
Product Description
Supports cardiovascular health and blood sugar metabolism
Essential nutrients for supporting healthy glucose levels already in the normal range
Provides key nutrients for blood sugar regulation
Give your body a helping hand to support healthy glucose levels with Swanson Blood Sugar Essentials. The latest breakthrough in metabolic maintenance, this special formula combines a powerful cinnamon extract with a select blend of beneficial nutrients to help the body use its insulin supply efficiently. At the heart of the formula is a compound known as MHCP (methylhydroxychalcone polymer), a unique constituent of cinnamon that aids the body's production of glycogen to support blood sugar health. Blood Sugar Essentials combines a guaranteed-potency cinnamon extract with chromium picolinate, alpha lipoic acid, quercetin, vanadium, N-acetyl cysteine and more to help maintain healthy metabolic processes. p>
These statements have not been evaluated by the Food and Drug Administration. This product is not intended to diagnose, treat, cure, or prevent any disease.
Product Description
Supports cardiovascular health and blood sugar metabolism
Essential nutrients for supporting healthy glucose levels already in the normal range
Provides key nutrients for blood sugar regulation
Give your body a helping hand to support healthy glucose levels with Swanson Blood Sugar Essentials. The latest breakthrough in metabolic maintenance, this special formula combines a powerful cinnamon extract with a select blend of beneficial nutrients to help the body use its insulin supply efficiently. At the heart of the formula is a compound known as MHCP (methylhydroxychalcone polymer), a unique constituent of cinnamon that aids the body's production of glycogen to support blood sugar health. Blood Sugar Essentials combines a guaranteed-potency cinnamon extract with chromium picolinate, alpha lipoic acid, quercetin, vanadium, N-acetyl cysteine and more to help maintain healthy metabolic processes. p>
These statements have not been evaluated by the Food and Drug Administration. This product is not intended to diagnose, treat, cure, or prevent any disease.
Supplement Facts
Serving Size 1 Capsule
Amount Per Serving
% Daily Value
Vitamin C (as ascorbic acid and ascorbyl palmitate)

67 mg

74%
Vitamin K (as phytonadione)

30 mcg

25%
Vitamin B6 (from pyridoxine HCl)

3.3 mg

194%
Chromium (from Chromax® chromium picolinate)

67 mcg

191%
Alpha-Lipoic Acid

200 mg

*
Cinnulin PF® (water soluble extract of cinnamon bark)

80 mg

*
N-Acetyl Cysteine

25 mg

*
Quercetin

25 mg

*
Vanadium (from vanadyl AAC)

330 mcg

*
*Daily Value not established.
Other ingredients: Rice flour, gelatin, microcrystalline cellulose (plant fiber), stearic acid, silica.
Suggested Use: As a dietary supplement, take one capsule three times per day with food and water.
WARNING: For adults only. Consult your healthcare provider before using this or any product if you are pregnant or nursing, taking medication, especially blood-thinning medication, or have a medical condition. Because chromium may enhance insulin sensitivity and affect glucose levels, diabetics and hypoglycemics should consult their healthcare providers before using this product.
Keep out of reach of children. Do not use if seal is broken. Store in a cool, dry place.
Cinnulin PF® is a registered trademark of Integrity Nutraceuticals International.
Chromax® is a registered trademark of Nutrition 21 and is licensed under U.S. patents #5,087,623; #5,087,624; and #5,175,156.
Discovered
by our team of internal scientific & wellness experts
Tested
for unsurpased purity, potency safety & quality by internal & third-party labs
Approved
by Swanson Health's expert standards for quality products for mind, body & home
Ratings and Reviews
Disclaimer:
Product reviews are provided for informational purposes only. The information or opinions expressed therein are solely those of the contributors and do not necessarily represent those of Swanson Health Products and its employees.  
Reviews containing references to a state of disease (e.g., pain, aches, inflammation, medicine replacement, cancer, cold/flu, arthritis, depression, insomnia, etc.) cannot be published. We value your input and look forward to hearing about your personal product experiences. Be sure to explain why you like or dislike the product and focus on the product's features. To meet our publishing standards, please refrain from including the following in your review:All reviews are subject to our Terms of Use. We reserve the right to remove non-compliant reviews language. If you wish to comment on product selection, pricing, ordering, delivery or other issues, please contact our customer service.Reviews containing references to a state of disease (e.g., pain, aches, inflammation, medicine replacement, cancer, cold/flu, arthritis, depression, insomnia, etc.) cannot be published. We value your input and look forward to hearing about your personal product experiences. Be sure to explain why you like or dislike the product and focus on the product's features. To meet our publishing standards, please refrain from including the following in your review:
Language referencing a state of disease (including but not limited to references to pain, aches, inflammation, medicine replacement, cancer, cold/flu, arthritis, depression, insomnia, etc.)
Obscene or discriminatory language
Critical or inappropriate comments about other reviews and shoppers
Advertising, spam, references to other websites or retailers
Personal information such as email addresses, phone numbers or physical addresses
All reviews are subject to our Terms of Use. We reserve the right to remove non-compliant reviews language. If you wish to comment on product selection, pricing, ordering, delivery or other issues, please contact our customer service.
4.5out of 5 stars
You must be logged in to write a review
I feel it
It seems to work better than the other ones
Feeling amazing overall.
I like this product so much I think it's one of the best I've ever had. I would definitely recommend this product to family and friends.
No difference
Sorry to say, but I do not see any difference

Blood Sugar Essentials-90