Detoxifying is an important part of overall wellness. Cleansing your body will help it to maintain better digestive and immune health, boost energy, promote healthy hair and skin, and jump start your weight loss goals.
There are various cleansing and detoxifying supplements on the market, but you can also drink to your health with tasty smoothie recipes or eat a detoxifying meal.
Traditional detox smoothies consist of fruits and/or vegetables with ice and some form of liquid, but you can also add fiber (hemp, flax or chia seeds) or protein (Greek yogurt, nut butter or hemp protein powder). Some people even add a fat source like coconut oil or avocado.
I put together a list of my favorite detox smoothie recipes that offer a variety of fruits and vegetables as well as added beneficial ingredients. Hopefully one (or a dozen) of these smoothie cleanse recipes make it onto your favorites list as well.
Best Detox Cleansing Smoothies - 25 Easy Recipes
1Kiwi Pear Power Smoothie – Green Blender
Packed with fruit and crunchy cashews, this smoothie features a special ingredient – mushrooms! It sounds strange for a smoothie, I know, but give it a try.
2Blood Orange Green Smoothie – Minimalist Baker
Creamy and refreshing, this smoothie is loaded with nutrients and full of flavor. Don't worry, it won't come out looking bloody, just green and delicious.
3Purple Power Detox Smoothie – Mind Body Green
The purple power of blueberries is mixed with yogurt, flaxseed oil, apple juice and more to make this smoothie a tasty, fiber-filled treat.
4Detox Green Smoothie with Avocado – Cook Nourish Bliss
This smoothie features more than just avocado. It's also made with maple syrup, vanilla extract, chia seeds and ginger. And to think some people dread detoxing!
5The Ultimate Liver Cleansing Detox Smoothie – Real Food RN
Another smoothie packed with unique ingredients, this one is made with beets, dandelion greens, MCT oil and more. Try this one specifically for liver cleansing.
6Watermelon Ginger Juice – Laurenda Marie
I'd never think to combine watermelon and ginger, but now I don't know how I've gone without it! This juice smoothie also features coconut water and lemon.
7Ginger-Mint Detox Smoothie – Yuri Elkaim
Ginger and mint combine with cucumber and other beneficial ingredients to make this tasty detox smoothie. It will also help calm an upset stomach.
8Kiwi Spirulina Detox Smoothie – Young and Raw
Spirulina is a known detoxifier, so it's only natural it made this list. It's blended with delicious kiwi and other fruits, chia seeds and vegetables for a green delight.
9Sunrise Detox Smoothie – Amy in the Kitchen
Wake up with the sun and enjoy a sunrise smoothie! This smoothie features only frozen fruit and coconut water. It makes me feel like I'm on a tropical vacation.
10Green on Green on Green Smoothie – Things I Made Today
Spoiler alert: This green detox smoothie is packed with greens! Cucumber, pear, kale, celery and lime blend together with pineapple for a sweet green treat.
11Very Berry Cherry Protein Smoothie – Fit Living Blog
Beets and berries mixed with cherries? I'm on board. This smoothie features Tart Cherry Juice, hemp seeds and other detoxing goodies.
12Beet Detox Smoothie – Ilona's Passion
Bring on the beets! A whole beet goes into this recipe along with strawberries, blueberries and a banana. Beet lovers rejoice!
13Detox Bloody Mary Smoothie – Green Blender
Know anyone who loves Bloody Mary drinks? I bet they'll love this smoothie, too! It combines tomatoes, celery, maqui berry, jalapeno and more for an added kick.
14Cherry Lime Smoothie – Phoebe's Pure Food
Cherry limeade, anyone? This smoothie is full of fruit and fruit juices. Phoebe also suggests various additions like honey, yogurt, chia seeds and hemp seeds.
15Spring Detox Smoothie Recipe – Hello Glow
Green tea and cilantro make this smoothie even more unique than other green detox smoothies. It also features avocado, ginger, pineapple and more. Tea time!
16Blueberry + Avocado Detox Smoothie – The Anastasia Co
Blueberries + avocado = bliss. This detox drink also features banana, cucumber, spinach and coconut water. Simply refreshing!
17Mango and Mint Smoothie – Cloves and Caramel
Mangoes, mint and cardamom combine for a bright and flavorful drink. It's basically sunshine in a glass.
18Pineapple Nutmeg Detox Smoothie – A Clean Bake
Pineapple, nutmeg, cinnamon and coconut milk? Big yes! If you're obsessed with nutmeg and cinnamon like I am, you'll love this drink.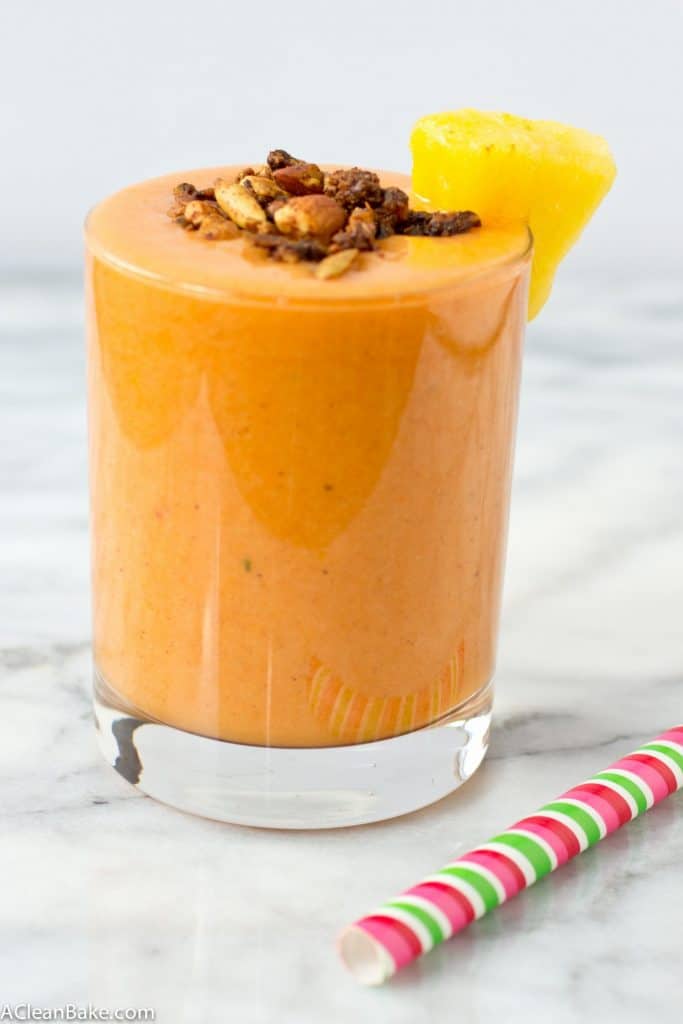 19Detoxifying Green Apple Smoothie – Making Thyme for Health
Apple and agave are sweet, delicious and make this smoothie taste amazing. It's also packed with spinach and kale for the ultimate green smoothie detox.
20Grapefruit Green Smoothie – Minimalist Baker
Grapefruit is on my short list of foods I'm not interested in, but I make an exception with this smoothie. Blended with apples, bananas, spinach and almond milk, this smoothie offers a sweet, refreshing taste.
21Skinny Pineapple Pear Smoothie – Super Nummy
Pineapple, pear and ginger blend together for another delicious smoothie option. Sometimes the simplest smoothies are the best smoothies!
22Lime Coconut Green Smoothie Recipe – Fit Living Blog
Put the lime in the coconut and drink a green smoothie! This drink features coconut yogurt and coconut milk along with mint, mango, banana, spinach and lime. It's an oasis of flavor.
23Golden Beet, Carrot and Turmeric Smoothie – Downshiftology
This smoothie is seriously delicious and seriously gorgeous. Apart from the titled ingredients, it also features mango, mandarin oranges and lemon. Top it with grated carrot and hemp seeds for added flavor and benefits.
24Clementine Avocado Smoothie – Back to Her Roots
This smoothie is both citrusy and creamy, and it's packed with nutrients and spinach for another great greens detox. Add honey for a little extra sweetness.
25Triple Berry Chia Detox Smoothie – The Scrumptious Pumpkin
Strawberries, blackberries, raspberries… all the berries! This berry delicious drink is also made with chia seeds and bananas. Add some agave for more sweetness.
What's your favorite healthy detox smoothie recipe?