Be first to write a review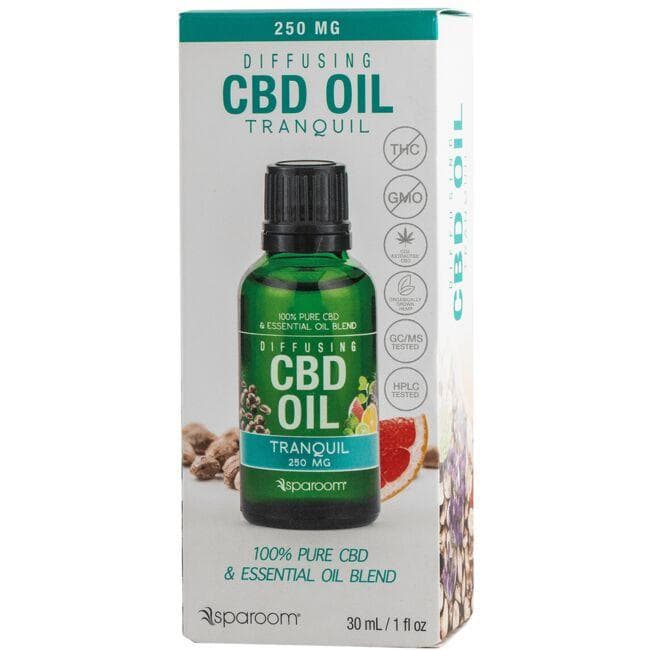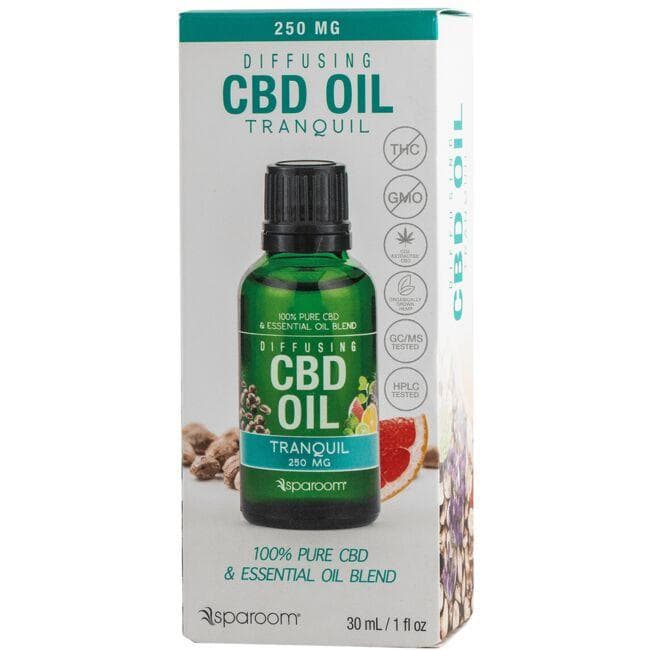 Be first to write a review
size
Product Description
Helps you feel relaxed & alert
Calming blend of CBD & essential oils
100% quality tested for purity and potency, vegan, gluten-free & non-GMO
Tranquil CBD Essential Oil from SpaRoom Essentials is a blend of citrus, mint and lavender oils plus CBD hemp extract in pure hemp oil to promote a feeling of calm. The floral and sweet citrus scent will leave you alert yet relaxed. Use in an ultrasonic or fan diffuser. p>
Product Description
Helps you feel relaxed & alert
Calming blend of CBD & essential oils
100% quality tested for purity and potency, vegan, gluten-free & non-GMO
Tranquil CBD Essential Oil from SpaRoom Essentials is a blend of citrus, mint and lavender oils plus CBD hemp extract in pure hemp oil to promote a feeling of calm. The floral and sweet citrus scent will leave you alert yet relaxed. Use in an ultrasonic or fan diffuser. p>
Ingredients: Orange (Citrus aurantium dulcis), Bergamot Mint (Mentha citrata), Lemon Distilled (Citrus medica limonum), Grapefruit (Citrus grandis), Lavandin Grosso (Lavandula hybrida), Cypress (Cupressus sempervirens), Clary Sage (Salvia sclarea) essential oils and Cannabidiol Isolate.
DIRECTIONS: Use within a nebulizer, ultrasonic or fan diffuser to enjoy aromatherapy with enhanced benefits.
CERTIFICATION: Our product is THC-free. Our CBD sourced from industrial hemp which is harvested from our Colorado Department of Public Health and Environment licensed farm. Our product is manufactured in a GMP compliant facility and is third-party tested.
WARNING: FLAMMABLE. NOT FOR INTERNAL USE. MAY IRRITATE SKIN. AVOID CONTACT WITH EYES. IF CONTACT OCCURS WITH EYES, RINSE THOROUGHLY WITH WATER. KEEP OUT OF REACH OF CHILDREN AND PETS. UNDILUTED OIL NOT INTENDED FOR TOPICAL USE. IF PREGNANT, NURSING, TAKING MEDICATIONS OR ALLERGIC TO INGREDIENTS, CONSULT YOUR DOCTOR BEFORE USE. DISCONTINUE USE OR CONSULT A DOCTOR IF ADVERSE REACTIONS OCCUR. RESULTS VARY.
ASSEMBLED IN USA
NO THC
NO GMO
CO2 EXTRACTED CBD
ORGANICALLY GROWN HEMP
GC/MS TESTED
100% PURE CBD & ESSENTIAL OIL BLENDS
Recyclable
Ratings and Reviews
Disclaimer:
Product reviews are provided for informational purposes only. The information or opinions expressed therein are solely those of the contributors and do not necessarily represent those of Swanson Health Products and its employees.  
Reviews containing references to a state of disease (e.g., pain, aches, inflammation, medicine replacement, cancer, cold/flu, arthritis, depression, insomnia, etc.) cannot be published. We value your input and look forward to hearing about your personal product experiences. Be sure to explain why you like or dislike the product and focus on the product's features. To meet our publishing standards, please refrain from including the following in your review:All reviews are subject to our Terms of Use. We reserve the right to remove non-compliant reviews language. If you wish to comment on product selection, pricing, ordering, delivery or other issues, please contact our customer service.Reviews containing references to a state of disease (e.g., pain, aches, inflammation, medicine replacement, cancer, cold/flu, arthritis, depression, insomnia, etc.) cannot be published. We value your input and look forward to hearing about your personal product experiences. Be sure to explain why you like or dislike the product and focus on the product's features. To meet our publishing standards, please refrain from including the following in your review:
Language referencing a state of disease (including but not limited to references to pain, aches, inflammation, medicine replacement, cancer, cold/flu, arthritis, depression, insomnia, etc.)
Obscene or discriminatory language
Critical or inappropriate comments about other reviews and shoppers
Advertising, spam, references to other websites or retailers
Personal information such as email addresses, phone numbers or physical addresses
All reviews are subject to our Terms of Use. We reserve the right to remove non-compliant reviews language. If you wish to comment on product selection, pricing, ordering, delivery or other issues, please contact our customer service.
no reviews yet
You must be logged in to write a review

Tranquil CBD Essential Oil-