About Us: A History of Swanson Health Products
Since 1969, Swanson Health Products has taken pride in bringing wellness to the world and helping you obtain the very best of health so you can focus on what you love. It all started with one man wanting to take care of his health so he could keep doing what he loved. Here's the story.
It Started On the Golf Course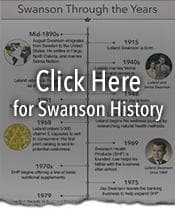 It was the late 1950s and Leland Swanson's worst fear was starting to become reality—arthritis was setting in, threatening his golf game. Golf was his passion. He loved the game, but what he loved even more was playing with friends and family and getting to know people on the course who shared his passion. Arthritis was slowly taking it all away from him, and so began his lifelong journey down the path of natural health and wellness.
Leland read everything he could get his hands on in relation to arthritis and overall wellness, including countless books and articles by natural health pioneers such as Paul Bragg and Adelle Davis. He attended lectures and conversed with other health conscious individuals. Following up on what he learned, Leland began taking vitamin E supplements.
Leland's commitment to health expanded in 1968 when he decided to share the wellness with others. He ordered 5,000 vitamin E capsules from an Ohio manufacturer and started advertising to consumers through the mail. Other nutritional supplements followed, and before long he was sending out small catalogs to potential customers. Swanson Health Products was born in 1969.
The Family Business is Born
When Swanson Health Products (SHP) opened, Leland declared that "the satisfaction and goodwill of our valued customers is our most important asset." He pledged to "provide the world's finest dietary supplements at the lowest possible prices with honest, outstanding customer service." Those founding principles remain just as important today as they were back in 1969, and they remain that way because of the Swanson family vision.
While Leland's oldest son Jay was working at a bank when Swanson operations began, younger son Lee was still in school and spent his free time helping his father. He was his father's first employee, and together they started offering a line of basic nutritional supplements. SHP boomed in the 1970s as more people found out about their quality, pricing and service. "We went from zero customers in 1969 to about 30,000 by 1979," Lee later noted.
Inviting You Into the Family
As Swanson Health Products continues to grow, so does our dedication to your health. Our commitment starts right at home in the Fargo community. Lee Swanson said, "We take our responsibilities of corporate citizenship very seriously. Fargo has been very good to us. This is our hometown and it is our duty to support the community in any way we can."
Not only does SHP care about Fargo, it's also dedicated to customers worldwide. "We treat people as we like to be treated—like family," Lee said. "One of our major concerns from the very beginning was that our customers would feel like we were treating them like real people, not just numbers or dollar signs. We believe that our customers are our most important assets. That's why we try to deal with our customers on a personal, one-to-one basis."
Lee added that "Besides treating our customers well, we are in the unique position of being able to offer products direct to customers without going through a middleman. Because of that fact, we are able to save customers 50 to 70% on their nutritional supplement expenditures. And those savings are on some of the highest quality products in the world. We bend over backwards to bring the finest ingredients to our customers at the best prices possible."
If that's not enough, Swanson goes another step beyond its competitors by offering powerful guarantees. All products are backed by 100% Satisfaction, Money Back Guarantee and Price Matching. As a leading supplement brand, SHP is Good Manufacturing Practices certified and also voluntarily participates in third-party supplement testing by independent organizations including ConsumerLab.com.
Our Dedication to You Endures
Swanson Health Products celebrated its 46th Anniversary in 2015. Lee Swanson commented on the company's success: "At Swanson Health Products, we treat every customer like we would treat a good friend or neighbor, and I think most people appreciate that.
When you shop with Swanson, you can expect fast, friendly service every time. If you have questions, you get answers. If you have a problem with your order, you get the personal attention you need to solve it promptly. It's hard to put a dollar value on service like that, but I think it makes a huge difference.
When all is said and done, our affordable prices are probably the main reason most of our customers first start shopping with Swanson, but our outstanding award-winning customer service is the main reason they keep coming back. It's like my dad said back at the beginning, 'the satisfaction and goodwill of our valued customers is our most important asset.'"
In January 2016, Lee Swanson retired and Swanson Health Products was acquired by Swander Pace Capital, a private equity firm specializing in investments in growth-oriented, middle-market consumer products companies. Swanson remains dedicated to delivering the same high quality products and exceptional service our customers expect.
Save
Save