Omega-3 Essential Fatty Acids: What You Need to Know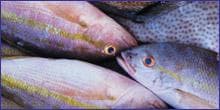 Just like healthy cholesterol versus unhealthy cholesterol, not all fat is created equal. Some fat is essential to proper body functions. Omega-3 essential fatty acids (EFAs), which provide the healthy fat we all need, are primarily found in cold water fish, flaxseeds and walnuts. What omega-3s accomplish in terms of your health truly is priceless. When you visit www.supplementinfo.org, which is the official website of the Dietary Supplement Information Bureau (DSIB), and "Browse Dietary Supplements," you will find that only vitamins C and E address a greater number of health conditions than omega-3 fatty acids.
Fish oil supplements (cod liver oil, salmon oil, etc.) and flaxseed oil supplements are the two most common essential fatty acid supplements. Their health benefits are derived from two specific fatty acids called eicosapentaenoic acid and docahexaenoic acid (EPA and DHA). Research indicates that these two fatty acids help the body in the following areas: joint health, cholesterol health, maintaining healthy blood lipids and blood pressure, heart health, infant brain development and cellular defense. That's quite a list, and it's because of all these potential heath benefits that omega-3s are one of our basic supplements for optimum health and wellness.
Conclusion: Perhaps the most important health contributions of omega-3 EFAs relate to cognitive function, mood stability, and cardiovascular health. So-called "primitive" diets rich in fresh vegetables and fish had much higher levels of EPA and DHA than our modern diets high in processed and refined foods. So just like fiber, our diets are typically lacking in essential fatty acids. Check out our large variety of essential fatty acids and pick one that fits your needs.
Return to the Vitamin D Plus the 7 Basic Supplements for Good Health introduction
comments powered by