Calcium & Magnesium Supplement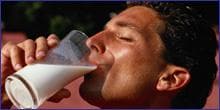 Calcium is the most abundant mineral in the human body (you have roughly two to three pounds of it), and about 99% of it is found in your bones. Calcium is needed to form bones and teeth and is also required for blood clotting and muscle contraction. However, bone health is calcium's most well-known task, and many calcium supplements contain added vitamin D, which is necessary for calcium's absorption.
Magnesium is another essential mineral found throughout your body. It also plays a crucial role in maintaining strong bones and muscles, as well as cardiovascular health, fatty acid formation, activating B vitamins, generating ATP energy and even forming new cells. Natural sources of magnesium include nuts, grains, beans, dark green vegetables and fish.
While these two essential minerals are included in most all multivitamins, the recommended daily intake (RDI) for these two is too high to be fully covered by a one-a-day multi formula. Therefore, we recommend a specific calcium and magnesium supplement that provides closer to the 1,000 mg of calcium and 400 mg of magnesium your body needs. Why? Calcium and magnesium contribute to your health in many ways. From supporting calm moods, strong bones and healthy teeth, there isn't a single part of your body that doesn't require calcium and magnesium.
Conclusion: Calcium and magnesium support optimum health throughout your entire body, so make sure you're getting enough with the help of a specific calcium and magnesium supplement. Go now to see all of our Calcium & Magnesium supplements.
Return to the Vitamin D Plus the 7 Basic Supplements for Good Health introduction
comments powered by