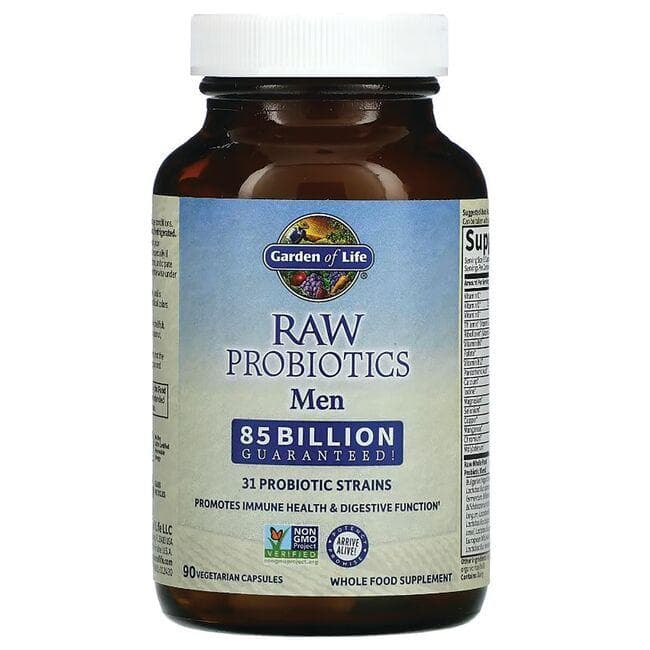 Garden of Life - RAW Probiotics Men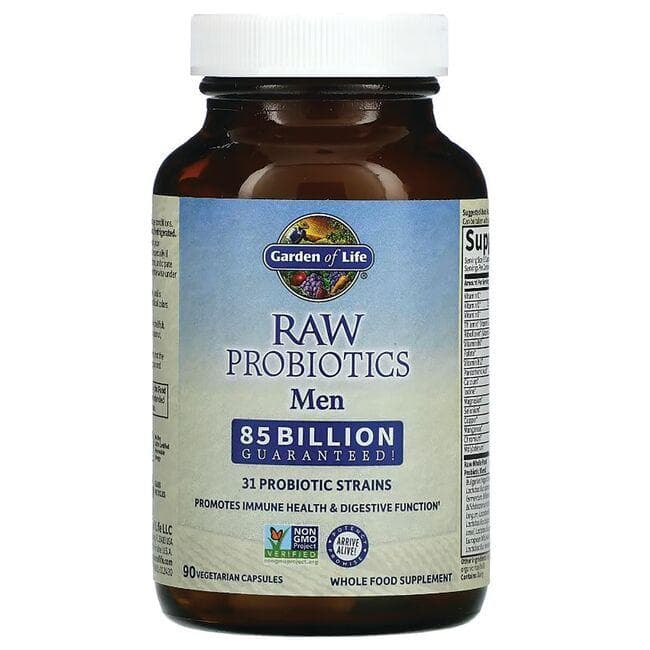 Click or Tap Image to Zoom
Product Details

With vitamins, minerals, enzymes & prebiotics
85 billion live cultures & 31 probiotic strains
Gluten free

RAW Probiotics Men from Garden of Life is a whole food probiotic formula designed specifically for men. It delivers 30+ powerful probiotic strains, along with probiotic-created cofactors including vitamins, minerals, enzymes, antioxidants and prebiotics. RAW Probiotics Men supports colon health, prostate health and immune system health.

These statements have not been evaluated by the Food and Drug Administration. This product is not intended to diagnose, treat, cure, or prevent any disease.

Supplement Facts

Supplement Facts

Serving Size 3 Capsules

Servings Per Container 30

Amount Per Serving
% Daily Value
Vitamin C*

24 mg

40%
Vitamin D*

500 IU

125%
Vitamin E*

12 IU

40%
Thiamin* (Vitamin B1)

1 mg

67%
Riboflavin* (Vitamin B2)

1.13 mg

66%
Vitamin B6*

1.33 mg

67%
Folate*

133 mcg

33%
Vitamin B12*

10 mcg

167%
Pantothenic Acid*

1.92 mg

19%
Calcium*

18 mg

2%
Iodine*

50 mcg

33%
Magnesium*

7 mg

2%
Selenium*

23 mcg

33%
Copper*

0.18 mg

9%
Manganese*

0.67 mg

34%
Chromium*

40 mcg

33%
Molybdenum*

19.5 mcg

26%
RAW Whole Food Probiotic Blend Bulgarian Yogurt Concentrate, Lactobacillus plantarum, Lactobacillus fermentum, Bifidobacterium bifidum, Bifidobacterium lactis, Bifidobacterium longum, Lactobacillus acidophilus, Lactobacillus bulgaricus, Lactobacillus casei, Lactobacillus gasseri, Eastern European Wild Kefir Culture containing Lactobacillus helveticus, Lactobacillus kefiranofaciens, Lactobacillus kefirgranum, Lactococcus lactis, Lactococcus cremoris, Streptococcus thermophilus, Lactobacillus kefir, Lactobacillus parakefir, Lactobacillus brevis, Lactococcus lactis biovar diacetylactis, Leuconostoc lactis, Leuconostoc mesenteroides, Leuconostoc cremoris, Leuconostoc dextranicum, Kluyveromyces marxianus, Brettanomyces anomalus, Debaryomyces hansenii, Saccharomyces unisporus, Saccharomyces turicensis, Saccharomyces cerevisiae, Saccharomyces exiguus, Torulaspora delbrueckii

794 mg

†
Total Cultures

85 Billion CFU¹

Eastern European RAW Fruit & Veggie Blend Red Bell Pepper (Fruit), Green Pea (Seed), Carrot (Root), Plum (Fruit), Cherry (Fruit), Strawberry (Fruit), Raspberry (Fruit)

207 mg

†
Dairy-Digesting Enzyme Blend

56 mg

†
Lactase 600 ALU

Protease SP 20,000 HUT

Protease S 1,000 APU

Aspergillopepsin 10 SAPU

†Daily Value not established.

Other ingredients: Vegetable cellulose.

*RAW Food-Created Nutrients are individually created through microorganism cultivation which typically allows for the creation of known and yet to be discovered Code-Factors such as live Probiotics, Bioactive Glycoproteins, Bioactive Lipoproteins, Bioactive Enzymes, Glucomannan, SOD, Glutathione, Beta-glucans, Lipoic Acid, Essential Trace Minerals, Glutamine, Polysaccharides and CoQ10.

¹At end of Best Use Date under recommended storage conditions.

Store in a dry place at 71°F (22°C) or below. Best if refrigerated.

Suggested Use: Adults take 3 capsules per day, as divided servings. You may gradually increase up to 9 capsules per day. Contents may be separated from capsule and poured into your favorite raw juice or water. Can be taken with or without food. Not intended for children.

CAUTION: As with any dietary supplement, consult your healthcare practitioner before using this product, especially if you are pregnant, nursing, anticipate surgery, take medication on a regular basis or are otherwise under medical supervision. Keep out of reach of children.

Contains no carriers, filler ingredients, artificial colors or preservatives.
Got a Question?

Ratings & Reviews

Disclaimer: Product reviews are provided for informational purposes only. The information or opinions expressed therein are solely those of the contributors and do not necessarily represent those of Swanson Health Products and its employees.

Reviews containing references to a state of disease (e.g., pain, aches, inflammation, medicine replacement, cancer, cold/flu, arthritis, depression, insomnia, etc.) cannot be published. We value your input and look forward to hearing about your personal product experiences. Be sure to explain why you like or dislike the product and focus on the product's features. To meet our publishing standards, please refrain from including the following in your review:

Language referencing a state of disease (including but not limited to references to pain, aches, inflammation, medicine replacement, cancer, cold/flu, arthritis, depression, insomnia, etc.)
Obscene or discriminatory language
Critical or inappropriate comments about other reviews and shoppers
Advertising, spam, references to other websites or retailers
Personal information such as email addresses, phone numbers or physical addresses

All reviews are subject to our Terms of Use. We reserve the right to remove non-compliant reviews language. If you wish to comment on product selection, pricing, ordering, delivery or other issues, please contact our customer service.

4.7out of 5 stars

You must be logged in to write a review

Showing reviews NaN - NaN of 6