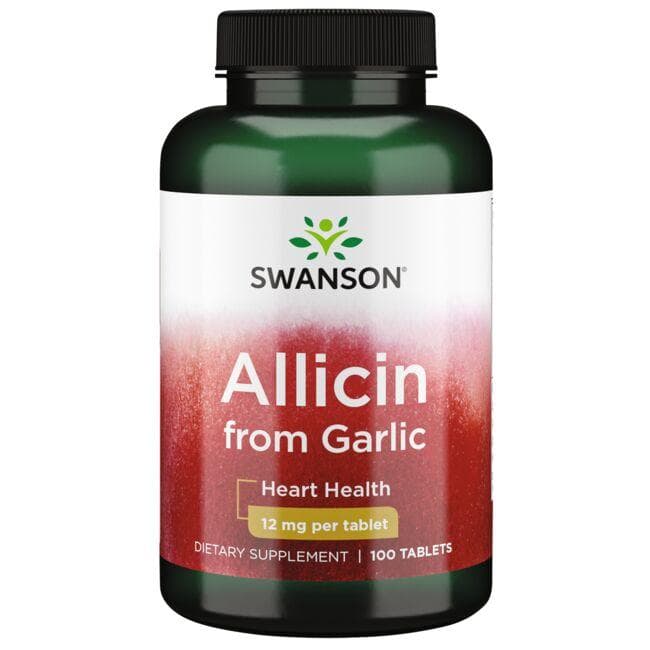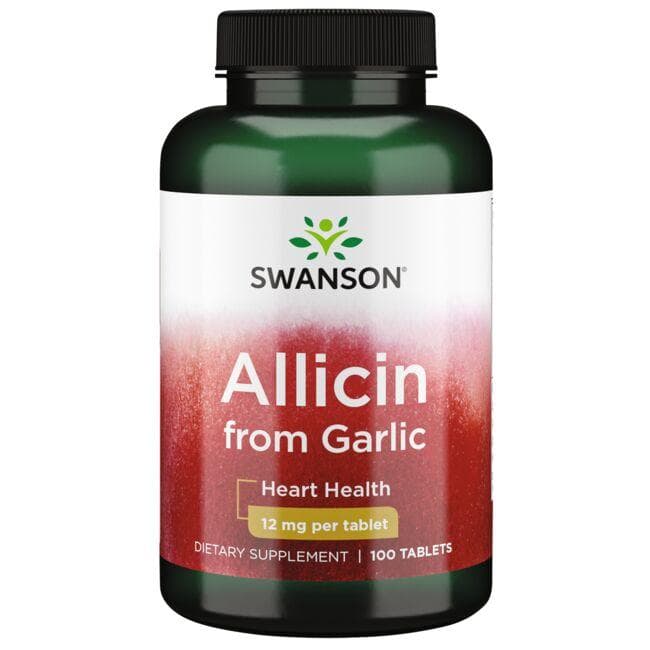 size
Serving Information
Serving Size: 1 tablet
12 mg per serving
100 servings per container
tablet size: S
Product Description
Helps maintain healthy cholesterol levels already within the normal range
Supports balanced lipid profiles and promotes healthy platelet activity and blood vessels
12 mg of allicin supplement per tablet
Modern research shows that allicin is the nutrient in garlic that gives it such health benefits, especially for your heart! Swanson Allicin in supplement form encourages healthy lipid metabolism by acting on fatty acids and increasing fibrinolytic activity. With its power to maximize healthy circulation and blood flow, allicin also acts as an antioxidant for blood vessel membranes, helping protect them from free radicals and remain flexible for good arterial health. Our tablets give you odor- controlled allicin in one of the highest concentrations of allicin available, anywhere! p>
These statements have not been evaluated by the Food and Drug Administration. This product is not intended to diagnose, treat, cure, or prevent any disease.
Product Description
Helps maintain healthy cholesterol levels already within the normal range
Supports balanced lipid profiles and promotes healthy platelet activity and blood vessels
12 mg of allicin supplement per tablet
Modern research shows that allicin is the nutrient in garlic that gives it such health benefits, especially for your heart! Swanson Allicin in supplement form encourages healthy lipid metabolism by acting on fatty acids and increasing fibrinolytic activity. With its power to maximize healthy circulation and blood flow, allicin also acts as an antioxidant for blood vessel membranes, helping protect them from free radicals and remain flexible for good arterial health. Our tablets give you odor- controlled allicin in one of the highest concentrations of allicin available, anywhere! p>
These statements have not been evaluated by the Food and Drug Administration. This product is not intended to diagnose, treat, cure, or prevent any disease.
Supplement Facts
Serving Size 1 Tablet
Amount Per Serving
% Daily Value
Allicin (from deodorized garlic standardized to minimum 1% allicin) (bulb)

12 mg

*
*Daily Value not established.
Other ingredients: Microcrystalline cellulose (plant fiber), stearic acid, croscarmellose sodium, calcium palmitate, pharmaceutical glaze with peppermint oil.
Suggested use: As a dietary supplement, take one tablet two times per day with water and food. For maximum benefit, take up to four tablets per day.
WARNING: For adults only. Consult your healthcare provider before using this or any product if you are pregnant or nursing, taking medication or have a medical condition.
Keep out of reach of children. Do not use if seal is broken. Store in a cool, dry place.
Discovered
by our team of internal scientific & wellness experts
Tested
for unsurpased purity, potency safety & quality by internal & third-party labs
Approved
by Swanson Health's expert standards for quality products for mind, body & home
Ratings and Reviews
Disclaimer:
Product reviews are provided for informational purposes only. The information or opinions expressed therein are solely those of the contributors and do not necessarily represent those of Swanson Health Products and its employees.  
Reviews containing references to a state of disease (e.g., pain, aches, inflammation, medicine replacement, cancer, cold/flu, arthritis, depression, insomnia, etc.) cannot be published. We value your input and look forward to hearing about your personal product experiences. Be sure to explain why you like or dislike the product and focus on the product's features. To meet our publishing standards, please refrain from including the following in your review:All reviews are subject to our Terms of Use. We reserve the right to remove non-compliant reviews language. If you wish to comment on product selection, pricing, ordering, delivery or other issues, please contact our customer service.Reviews containing references to a state of disease (e.g., pain, aches, inflammation, medicine replacement, cancer, cold/flu, arthritis, depression, insomnia, etc.) cannot be published. We value your input and look forward to hearing about your personal product experiences. Be sure to explain why you like or dislike the product and focus on the product's features. To meet our publishing standards, please refrain from including the following in your review:
Language referencing a state of disease (including but not limited to references to pain, aches, inflammation, medicine replacement, cancer, cold/flu, arthritis, depression, insomnia, etc.)
Obscene or discriminatory language
Critical or inappropriate comments about other reviews and shoppers
Advertising, spam, references to other websites or retailers
Personal information such as email addresses, phone numbers or physical addresses
All reviews are subject to our Terms of Use. We reserve the right to remove non-compliant reviews language. If you wish to comment on product selection, pricing, ordering, delivery or other issues, please contact our customer service.
3.9out of 5 stars
You must be logged in to write a review
Christopher B.
Mar 14, 2020
One of the best
Excellent product, I just wished the garlic smell wasn't so strong. Pretty much all garlic supplements suffer from that unfortuntely, Beware of competing products, There is another brand that claims pure allicin with 180 mg but when read closer its only 54mcg of allicin for a lot more money.
None of this Allicin will get in Your Bloodstream
Avoid this product. Sure there may be 12 mg of Allicin in the pill but there is nothing else in the pill that protects the Allicin from stomach acid. Any Allicin in the pill will simply be destroyed by your stomach before any can be absorbed, and you will be left with nothing but stinky breath.
Not Odorless
I wanted to take these rather than raw garlic. The first tablet I took caused me flatulence within 30 minutes and it wreaked of garlic. The gas didn't stop for over 2+ hours. I am not sure if this is common or will go away. Also the tablets tasted like garlic when swallowed. But, I would guess there is allicin in it because it smells. I don't really have much that I can say besides these side effects at the moment. May update later.

Allicin from Garlic-100