Nitrosigine Arginine Silicate Inositol
Nitrosigine® Arginine Silicate Inositol
Patented Arginine Complex Raises the Bar for Cardiovascular/Circulatory Health
Introducing the latest advancement in cardio-vascular care from dietary supplement innovators Nutrition 21. Nitrosigine is a patented complex that binds arginine with silicate, unlocking powerful synergistic effects. Engineered to work fast, Nitrosigine keeps working for up to three hours after just a single dose and, with continued use, helps build nitric oxide levels over time for natural support of healthy circulation and blood vessel integrity.
Arginine and Silicon Have Synergistic Benefits
For over 15 years, the amino acid arginine has been widely researched as a natural supporting agent for cardiovascular wellness. Silicon is a well-established biological element recognized for its importance in connective tissue. Nitrosigine provides the benefits of both, along with additional benefits from the unique combination.
Arginine is a natural metabolic donor of nitric oxide, the "miracle molecule" that causes blood vessels to dilate or expand, to allow for optimal blood flow through the circulatory system. Silicon is found concentrated within the arteries, where it helps make the inner lining of arterial tissue less permeable. Arginine and silicon, together as Nitrosigine, help blood vessels relax and open to ensure healthy blood flow while protecting the structure of blood vessel tissue for long-term health and function.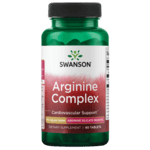 (
10
)
Retail

$28.49

Swanson

$19.99
The Science Behind Nitrosigine
Nitrosigine has been clinically demonstrated to significantly raise nitric oxide levels, generating more blood flow to working muscles and supporting overall cardiovascular health. With continued use, Nitrosigine has been shown to build nitric oxide levels over time. This is where the patented complex differs from other arginine supplements—while others may produce a short-term benefit, Nitrosigine offers a long-term solution for cardiovascular maintenance.
Preclinical data clearly demonstrates the superiority of Nitrosigine over standard arginine. As illustrated in the charts below, blood flow was nearly four times greater than controls in those receiving Nitrosigine and twice that of arginine HCl after administration of Bradykinin, a standard vasodilator used in clinical research. In the same study, blood vessel relaxation was five times greater in the Nitrosigine group compared to those receiving arginine HCl. Blood vessel relaxation is a known positive effect of nitric oxide and may contribute to healthy blood flow. Furthermore, researchers noted a 200% increase in silicon absorption compared to normal intake in animal models.
Study Demonstrates Nitrosigine is a Bioavailable Source of Arginine & Silicon
Clinical research designed to confirm the preclinical results and establish the safety and pharmacokinetics of Nitrosigine was conducted with healthy male volunteers aged 18-40. For this study, participants underwent a pre-trial screening to establish baseline values. They were then screened after a single dose (1,500 mg, 0-6 hours) and instructed to consume the same dose daily for 14 days. On day 14, participants were again assessed following a single-dose administration (0-6 hours).
Researchers also analyzed blood proteins known to be related to blood vessel dilation and cardiovascular health, finding positive results on eight important marker proteins, including cystatin-C (a 70% reduction in this protein, high levels of which correlate with cardiovascular risk) and kallistatin (a 32% increase in this protein, which acts as a potent vasodilator).
Beyond Arginine for Better Cardio Support
Nitrosigine is a next-generation nutraceutical that constitutes a marked improvement over standard cardiovascular supplements, yet it's affordable enough to fit any budget. With Swanson Ultra®, you can take advantage of Nitrosigine at the clinically validated dosage of 1,500 mg for just fifty cents per day! If you've relied on arginine supplements in the past, step into the future with Nitrosigine and give your heart the best nature and science have to offer.