Bergamot Extract
Bergamot Extract with BERGAVIT®—New Clinically Validated Bergamot Extract Supports Healthy Cholesterol*
What Is Bergamot?
Bergamot is a small, fragrant citrus fruit similar to an orange but colored more like a lemon. While considered inedible due to its sour bitterness, it is highly sought after for its essential oil which has been used for centuries by perfumiers, chefs (the oil is used to add fragrance and flavor), and traditional herbalists.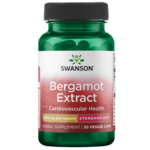 (
1
)
SWH260 •
500 mg 30 Veg Caps
Retail

$28.49

Now 2 for

$20.99
Legend says that Christopher Columbus brought Bergamot to Italy from the Hispanic town of Berga at the end of the 15th century. Since then, it has been carefully cultivated on the coast of Calabria, where it is now tightly controlled by the Italian government. This control, which includes testing and certification, is a testament to the importance of this citrus oil in the Italian economy.
Recent advancements in healthcare research are finding new applications for Bergamot oil, which contains biologically active flavonoids— including neoeriocitrin, neohesperidin, naringen and brutieridin.
Oil Supports "Good" HDL Cholesterol
Maintaining healthy cholesterol means more than simply lowering the bad (LDL); it also means balancing the good (HDL). High Density Lipoprotein (HDL) cholesterol is necessary for a number of key biological functions and can reach alarmingly low numbers when brought down by the same strategies used to reduce Low Density Lipoprotein (LDL), the "bad" cholesterol.
Bergamot appears to offer a solution by naturally supporting healthy HDL levels while contributing to favorable outcomes on measures of LDL.
In a recent experimental study with 237 subjects supplemented with Bergamot Extract for 30 days, remarkable decreases in total cholesterol, triglycerides and LDL with a simultaneous rise in HDL cholesterol was recorded, an effect rarely seen with any lipid intervention. (See graph.) A registered clinical trial is now underway to confirm these results in 160 subjects over a six month period.
Bergavit®—The Italian Answer to Healthy Cholesterol
Swanson® Superior Herbs standardized Bergamot Extract features Bergavit® from BIONAP srl, an Italian nutraceutical company dedicated to identifying and optimizing active substances from Mediterranean foods and herbs. From raw material cultivation to technologically advanced extraction, BIONAP controls the entire production process to ensure consistency and efficacy in every finished capsule.
If your wellness goals include achieving and maintaining healthy cholesterol, don't throw the good out with the bad. Add Swanson Superior Herbs Bergamot Extract to your supplement regimen for a holistic approach to cholesterol maintenance.
*Supports healthy cholesterol levels already within the normal range