Skin Pill
Rejuvenate Your Complexion with the Ultimate Skincare Formula!
For a velvety smooth complexion that exudes ageless radiance and beauty, nothing works like The Skin Pill, our first skincare formula ever to address every aspect of skin health, from cellular respiration to free-radical protection to moisture retention. The Skin Pill features a synergistic combination of nutrients, antioxidants and moisturizers that nourish and protect skin tissues to help maintain a youthful, radiant complexion.
The Skin Pill works on the most fundamental levels to enhance and maintain the health of your skin for a difference you can see and feel. The formula starts with DMAE and patented Q-Gel® CoQ10. This is increasingly important as we grow older. The Skin Pill is one of the only products on the market to address this vital aspect of skin maintenance—but we didn't stop there.
The Skin Pill features an impressive slate of powerful antioxidants like Pycnogenol,® OleaSelect® olive fruit extract, lutein and ascorbyl palmitate, a unique, fat-soluble form of vitamin C. It also includes highly effective moisturizers like Hyal-Joint® hyaluronic acid and squalene, a natural component of skin lipids that helps keep the skin pliable and resilient.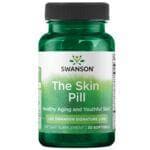 MSRP

$42.49

Was

$32.99

$24.74
With The Skin Pill, your skin gets a level of nourishment and protection unavailable from any other product, with real results you can see. Try it for yourself and you'll see! If you're not absolutely 100% satisfied, just let us know and we'll give you a full refund of the purchase price.
The Skin Pill is the first skincare product ever formulated to optimize cellular respiration, protect against free-radical damage and enhance the skin's ability to retain moisture.