RIMFROST Krill Oil
MSRP

$22.99

Now 2 for

$15.69
RIMFROST™ Krill Oil
The Ultimate Antarctic Krill is Here
When it comes to krill oil, not every product is created equal. Introducing new RIMFROST Krill Oil, the world's finest, freshest, most concentrated krill oil ever developed. With ultra-high phospholipids, RIMFROST is the efficient way to incorporate high levels of nourishing omega-3s into your daily diet.
From Norway to the World
Fosnavåg, on the west coast of Norway, is a place known for its fishermen and maritime traditions. It is here, in this breathtakingly pristine setting, that RIMFROST was born. Founder Stig Remøy began commercial fishing at the age of 19, fishing shrimp in the cold and distant Arctic ocean where he learned the hard lessons of the sea and the secrets to success—a skillful team and superior technology. This is the RIMFROST foundation.
Today, RIMFROST is the largest capacity producer of krill oil in the world. The company owns and operates the JUVEL, a technologically advanced vessel featuring immediate onboard processing for the ultimate in freshness and potency.
ECO-COLLECTING™ Ensures Sustainability
RIMFROST uses an acoustic search technology to locate krill swarms of a suitable size so they know exactly where and how deep to cast. Underwater sensors and surveillance equipment are used to check conditions of the trawl and observe the krill collection. This advanced precision eliminates lingering trawls, continuous pumping systems and the potential for seabed damage—all common concerns in commercial fishing. RIMFROST has even developed unique technologies to minimize bycatch, thereby further reducing the ecological impact of its operations. RIMFROST has been recognized by international authorities for its efforts and has been certified by the Marine Stewardship Council® (MSC) for Environmental Sustainability as well as by Friend of the Sea®, a nongovernmental certification organization. RIMFROST is also a cofounder of the Association of Responsible Krill Harvesting Companies (ARK), a global association focused on promoting research for the future of sustainable krill harvesting.
Highest Phospholipid & Astaxanthin
Thanks to RIMFROST's technologically precise harvesting and immediate onboard processing, RIMFROST Krill Oil boasts the highest phospholipid content of any commercially available krill supplement. This is important because, in nature, omega-3s are bound to phospholipids which aid absorption. Without the phospholipid bond, free omega-3 triglycerides can sit atop the aqueous solution within the stomach, causing an unpleasant reflux. Phospholipidbound omega-3s, on the other hand, have the water-soluble properties of micelles, which readily disperse within the stomach for optimum absorption. The high level of phospholipids in RIMFROST Krill Oil make it one of the most efficient omega-3 supplements available.
Astaxanthin is responsible for the characteristic red color of krill and the deep ruby-red color of RIMFROST Krill Oil, but it's so much more than a pigment. Astaxanthin is one of the most powerful antioxidants known to man; yet the krill's naturally rich supply is often stripped out of processed oil. As part of the krill organism and its oil, astaxanthin protects lipids from oxidation. That's why some companies go so far as to replace the natural content after it's stripped out. RIMFROST Krill Oil contains only the astaxanthin supplied by nature, offering another nutritional advantage that sets this oil apart from the rest.
Committed to Scientific Excellence
RIMFROST is committed to scientific excellence both in its advanced fishing and processing technology and in clinical support for the products it produces. No less than a dozen clinical and preclinical studies have been completed or are underway utilizing RIMFROST Krill Oil in trials designed to measure cardiovascular benefits, brain and mental function effects, metabolic benefits and more. Swanson Health Products® is proud to be among the first to introduce RIMFROST Krill Oil to America. Alone or in combination with nutrient-rich coconut oil, RIMFROST Krill Oil can be a fantastic addition to any comprehensive healthcare program.
SUBLIME KRILL OIL—An efficient source of phospholipid-bound omega-3 fatty acids captured in a clear, red oil.
Phospholipids—easily absorbed omega-3s
Every membrane of every cell in our body contains phospholipids—an exceptional lipid with both water-loving and water-repelling abilities due to its advantageous molecular structure. RIMFROST Antarctic krill oil provides omega-3s bound to these unique phospholipids giving us the beneficial health effects of omega-3s in a more bio-efficient manner compared to other sources of marine omega-3 fatty acids. Phospholipid-bound omega-3s from RIMFROST krill oil are easily absorbed and therefore smaller doses are needed.
Consumer friendly—no aftertaste
Unlike many other marine omega-3 fatty acids, RIMFROST Antarctic krill oil is rapidly processed in our stomachs due to the water-blending ability of the phospholipidbound omega-3s, leaving the consumer with no unpleasant aftertaste or reflux sensation.
Astaxanthin—a powerful antioxidant
RIMFROST Antarctic krill oil is naturally rich in astaxanthin—a powerful antioxidant protecting the lipids in krill from oxidation and giving krill oil its distinct clear, red color. RIMFROST Antarctic krill oil only contains the astaxanthin provided by nature—nothing else added.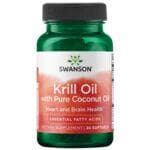 MSRP

$22.99

Now 2 for

$15.69