Razberi-K Supplement Options
The Latest Alternatives in Razberi-K® Supplements
Don't be fooled by cheap imitations! Razberi-K is the original ketone ingredient behind the incredible popularity explosion raspberry ketone supplements have seen over the past year. Ever since this obscure nutrient was featured on popular daytime television, it's become the talk of the nation among those seeking natural weight-loss solutions.
This special ketone is a phenolic compound found in raspberries and other berries in the genus Rubus. Chemically defined as 4-(4-hydroxyphenyl) butan-2-one, it's the phytonutrient believed to give the raspberry its unique scent. Razberi-K is a nature-identical supplemental form of raspberry ketone that enables us to consume higher levels of this potential fat-fighting nutrient than we could possibly achieve by simply eating raspberries.
Preliminary studies suggest that raspberry ketones may hold promise for weight management by acting via multiple pathways to stimulate fat tissue loss. Swanson Health Products® has proudly offered our original 100 mg Razberi-K raspberry ketones capsules since 2011.
Now, for your convenience, we're pleased to bring you even more options for your Razberi-K needs. Try our Double-Strength Razberi-K with 200 mg per veggie capsule, or our Maximum-Strength Razberi-K with a whopping 500 mg per veggie capsule!
We've also paired Razberi-K with the popular supplement conjugated linoleic acid (CLA). Together they make potent enemies of fat by combining the ketone's purportedly unique potential to support body fat reduction by decreasing the absorption of dietary fat and supporting epinephrine-induced lipolysis (the breakdown of fat) with CLA's ability to help burn body fat while promoting lean muscle development. In this blend, we've combined Razberi-K with patented Tonalin® CLA, clinically shown to help promote body fat reduction while supporting lean body mass maintenance.
Raspberry ketones will likely continue to be in the research spotlight as scientists continue to explore potential weight-management merits. With Swanson® Best Weight-Control Formula's multiple Razberi-K options, you can customize your program by choosing the potency and formulation that's right for you. Combined with regular exercise and a well-balanced diet of healthy whole foods, our Razberi-K selections offer stimulant-free alternatives to help you succeed in your weight-management goals.
MSRP

$22.99

Was

$16.99

$12.74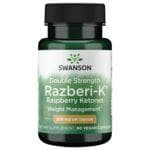 SWD076 •
200 mg 60 Veg Caps
MSRP

$11.99

Was

$6.29

$4.71
SWD078 •
500 mg 60 Veg Caps
MSRP

$16.49

Was

$11.49

$8.61
Availability:
Coming Soon