MegaNatural
On the Road with Lee Swanson:
Polyphenolics—Makers of MegaNatural® Grapeseed Extracts
Dear Friends and Valued Customers:
This past autumn my team and I traveled to the central valley wine country of California to learn about one of the biggest developments in grapeseed science since . . . well, since grapeseed extracts were developed. It's called MegaNatural®-BP™, a unique preparation specially suited to support healthy blood pressure maintenance already within the normal range. But before we delve into this exciting new supplement, let me share a little of what I learned about its makers, Polyphenolics.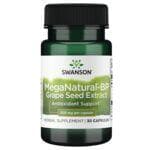 MSRP

$16.49

Swanson

$10.39
Polyphenolics is a division of Constellation Wines U.S., which is itself a division of global wine-and-beverage giant Constellation Brands. In the U.S., Constellation produces over 55 million cases of wine every year under famous labels like Robert Mondavi, Blackstone and Paul Masson. As you can imagine, this level of production requires a lot of grapes. Constellation works directly with California growers, overseeing thousands of acres of vineyards from the high-production central valley to the smaller-yield, prestigious vineyards of the north. Naturally, they're in the perfect position to produce world-class grapeseed supplements.
Now, one might expect a certain austere atmosphere to prevail at the center of the country's largest wine maker, but this simply is not the case. I found the folks at Polyphenolics to be incredibly down-to-earth and eager to share their knowledge. Although they may be members of a large global conglomerate, they operate each winery independently, with the same family-first, small-town values that dominate the agricultural communities I grew up around in North Dakota.
We began our tour at Mission Bell, one of the central valley's oldest wineries, where Operations Manager Robert Sambueso led us through Polyphenolics' grapeseed extraction facilities. Then, we moved on to the Paul Masson winery where we witnessed the initial seed separation and collection process. Later, agronomist Jon Holmquist took us out to the vineyards for an up-close look at the grapes that bear the antioxidant-rich seeds. And finally, I sat down with Polyphenolics' president Anil Shrikhande and UC Davis professor Tissa Kappagoda to review the remarkable research supporting MegaNatural-BP's benefits for blood pressure maintenance.
I was truly impressed at every stage of our visit, and I can now say with absolute confidence—having seen its production myself—that our Swanson products containing MegaNatural and MegaNatural-BP are, in fact, the finest grapeseed supplements in the world.