Green Coffee Complex with Green Tea & Raspberry Ketones
Green Coffee Complex Combines Today's Hottest Belly Busters in One Capsule!
Dear Friends and Valued Customers:
After 40-plus years in the natural health field, I've seen dozens of weight-management supplements come and go. They burst onto the market promising amazing results, only to disappear shortly thereafter once we learn firsthand that they simply don't live up to the hype. Those that work remain. And while it's true that not every supplement will work for everybody, a handful of standout ingredients have proven themselves enough to gather loyal, long-time users satisfied with their success. Our new Ultimate Green Coffee Complex features four of the most outstanding belly-busting ingredients to emerge in recent years, all in one convenient and affordable supplement. It's just the thing to help fight the holiday bulge and get you back on track for a fit and healthy year ahead. Read about each ingredient below and try it for yourself—I know you're going to love the results. Plus, at just $9.99 for a 30-day supply, this is one belly-busting bargain that can't be beat!
As always, I wish you the very best of health,
The concept is simple: Take today's most popular ingredients for weight management, those with the best track record of consumer satisfaction, put them together in one comprehensive supplement at research-supported levels and sell at a price nearly everyone can afford. The concept is simple. The supplement is anything but.
Our team of developers at Swanson Health Products® worked for over a year and evaluated numerous formulations to find just the right mix of quality ingredients deliverable at the right price. Swanson® Best Weight-Control Ultimate Green Coffee Complex features ingredients selected based on quality analysis and conformity to research standards. Each has its own distinct benefits and its own distinct advantages.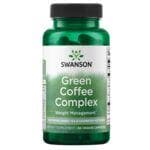 MSRP

$17.99

Was

$11.49

$8.61
Green Coffee Bean Extract—It's the Chlorogenic Acid that Counts
Green coffee bean extract gained popularity over the past year after being featured on a popular television program. Millions rushed to try it out. To the surprise of some, hundreds of thousands of people reported real, positive results.
This came as no surprise to researchers who have found extracts of green coffee bean to be beneficial in studies conducted on both animal and human models. In all of the research on record, scientists note that it is the chlorogenic acid component, working in synergy with the small amounts of naturally-occurring caffeine in green coffee extracts, that is responsible for the slimming benefits.
The green coffee bean extract selected for use in this formula contains a higher chlorogenic acid concentration than the standard used in modern research—50%—plus 3% caffeine and an ORAC rating over 6,500. Our experts tell us that by all measures, it's the finest green coffee bean extract on the market.
Razberi-K®—The Original Raspberry Ketone Sets the Standard
Raspberries contain a specific phenolic compound classified as a ketone [4-(4-hydroxyphenyl)butan-2-one]. Like green coffee bean extract, raspberry ketones also rose in popularity last year after major media exposure. And like green coffee bean extract, it too proved itself to the hundreds of thousands who quickly sought it out and began taking it regularly.
Razberi-K® is the original isolated raspberry ketone developed for use in dietary supplements. According to research, this specific compound appears to assist in weight management in various ways.
Green Tea Extract—Ancient Herbal, Modern Nutraceutica
One of the most widely researched herbal aids for weight management, green tea extract has a proven track record in scientific studies and among millions of satisfied consumers—not to mention centuries of use as a traditional Chinese health tonic.
The green tea extract selected for inclusion in our Ultimate Green Coffee Complex features a 98% concentration of polyphenols, 45% as epigallocatechin gallate (EGCG), the particular component believed to be the most active and beneficial. Its low level of caffeine (8% maximum) provides synergistic thermogenic support without reaching levels that will over-stimulate the body or interfere with your ability to rest and relax. We selected this specific ingredient because it's the perfect green tea extract composition for weight-management applications.
Chromium Picolinate—Trace Mineral Metabolic Aid
Only one non-herbal ingredient made the grade for inclusion in our Ultimate Green Coffee Complex. Chromium picolinate has been the subject of research since the 1960s, with most studies of the last two decades focusing on weight management and metabolic support. Such a large body of research (over 700 published papers on Medline alone) provides a solid foundation of supporting evidence and clear recommendations for appropriate dosage to achieve desired effects. Based on the available data, we included 500 mcg of pure, guaranteed-analysis chromium picolinate—the amount our experts believe to be sufficient to deliver synergistic support for the herbal ingredients in this exclusive blend.
Your All-For-One and One-For-All Solution to Healthy Weight Management
Swanson® Best Weight-Control Ultimate Green Coffee Complex brings together these cutting-edge nutraceuticals in one ultra-affordable, maximum-benefit supplement suitable for everybody, no matter how big your weight management challenge may be. Specially formulated using the highest-quality, high-value ingredients, Ultimate Green Coffee Complex gives you the reliability of guaranteed potency, stability and consistency you simply won't find with any other supplement.
Start your new year off right by shedding those holiday pounds with regular exercise, healthy eating and the one supplement that brings you today's leading belly-busting dietary aids— Ultimate Green Coffee Complex from Swanson Best Weight-Control.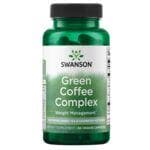 MSRP

$17.99

Was

$11.49

$8.61