FemFlora
Swanson Ultra® FemFlora—New & Improved Probiotic Formula for Women!
Dear Friends and Valued Customers,
I've got great news! FemFlora is back and better than ever! Many of you called and wrote to us to express your appreciation for its unique benefits. For instance, Francis K. of San Marino, California, wrote that "FemFlora is not only the most wonderful product I have ever used." That's why, after we were no longer able to obtain the ingredients, I called on experts in the field to devise an equal-if not better-formula. In the interview below, my friend and colleague Sue Brenan, R.Ph., who provided consultation for our reformulation, explains the changes and tells why she is particularly excited by the improvements.
SWANSON: Sue, thank you for working on this special project with us. As a pharmacist and a woman, you're a strong supporter of probiotics and FemFlora in particular. Why?
Brenan: As more studies are being done on these 'friendly' bacteria, we are building on the body of research showing that probiotics support our overall health. An appropriately balanced blend of probiotics can be supportive of women's health.
SWANSON: The original FemFlora contained two very specific probiotic strains, while the new formula contains a wider variety. Why do you feel the broader composition is important?
Brenan: The new FemFlora formulation contains multiple lactobacilli species to support the flora of the mouth, GI tract and vagina. Both the reuteri and rhamnosus strains have been studied for their role in supporting and maintaining vaginal health.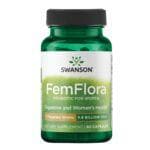 SWU534 •
9.8 Billion CFU 60 Caps
MSRP

$12.49

Was

$9.39

$7.04
SWANSON: What can you tell our readers about L. plantarum? There's some interesting research being conducted with that particular organism, is that correct?
Brenan: Although some lactobacilli species are better known, like the acidophilus species, researchers have been studying others such as L. plantarum. L. plantarum appears to be a predominant strain in both oral and intestinal mucosa.
SWANSON: We hear a lot about probiotics in the news and through commercials for fortified food products. As a pharmacist, do you see interest in probiotics increasing? Is there greater acceptance among medical professionals today than in the past?
Brenan: Yes, in general people are starting to realize the connection between intestinal health and overall health. Probiotics are being recommended to assist in bowel health, urogenital health, and overall health. Probiotics assist in establishing healthy populations of 'friendly' bacteria.
SWANSON: Who do you believe can benefit from the new FemFlora and how or when should it be used?
Brenan: Many women may benefit from a regularly taken probiotic supplement. The latest research suggests that probiotics work best when taken on a full stomach. The lactic bacteria are sensitive to extreme acidity and so their passage through the stomach into the intestine is easier when gastric juices have been neutralized by food.