Ecklonia Cava Extract
99% Pure Ecklonia Cava 25:1 Extract
Roger Drummer is a Diplomate of Chinese Herbology with the National Certification Commission for Acupuncture and Oriental Medicine (NCCAOM) who travels extensively throughout North America lecturing on the benefits of Chinese Tonic Herbalism and Nutrition. Roger's 29 years of experience include formulating personalized tonic herb and nutritional programs for tens of thousands of clients, among them many notable celebrities. He consults and teaches courses to the public on health and nutrition and trains apprentices in the art of Herbalism. Learn more from Roger at www.askrogerdrummer.com.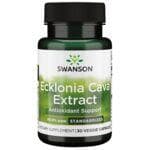 SWR053 •
53 mg 30 Veg Caps
MSRP

$12.49

Was

$7.29

$5.46
SWANSON: What is Ecklonia Cava and what is its history?
Drummer: I'm excited to be able to talk about one of my favorite new supplements that I use on a regular basis and that's Ecklonia Cava. The star of this class of algae-based antioxidants is Ecklonia Cava, a brown algae grown off the coast of Korea and Japan. Ecklonia Cava features a unique form of polyphenols called phlorotannins that are chemically distinct from all land/plant based polyphenols.
SWANSON: What are the active components?
Drummer: There have been several different phlorotannins isolated from Ecklonia Cava that exhibit antioxidant properties. These different phlorotannins are distinguished by their hydrophobic properties as opposed to the hydrophilic (water based) characteristics of polyphenols extracted from land-based plants. Based on its hydrophobic properties, Ecklonia Cava is considered up to 10 times more potent than land-based polyphenols, including green tea catechins.
The key to Ecklonia Cava's activity is the number of phenol structures. The flavonoids that occur in plants are referred to as polyphenols—plant based antioxidants with phenol rings. The number of rings determines its ability to capture free radicals. The higher the number of rings, the higher the level of activity.
Resveratrol has a 2-ring structure and green tea catechins a 4-ring. The phenol structures found in Ecklonia Cava have between 6–8 phenol rings which, when combined with a longer staying power in the human body, may make them more powerful than any land-based antioxidant.
SWANSON: Is there research that supports the use of Ecklonia Cava for human health?
Drummer: The one thing I love about this herb (I'm an herbalist and if it comes from a plant I call it an herb) is that it has great research behind it. It's not based on hearsay but actual results. If you look at the research it's pretty obvious that Ecklonia Cava could be used as an adjunct to any nutritional program.
I use it in my own formulas for brain health and stress because of its length of activity in the body.
SWANSON: How does our Swanson® product compare to other Ecklonia Cava products on the market?
Drummer: One of the most important things I ever learned when I was training as an herbalist is that the quality of ingredients often determines the outcome. Swanson's Ecklonia Cava Extract is the purest, most potent water-based extract you can buy. All of the other Ecklonia Cava on the market has been cut with up to 80% cornstarch. Why is that? Because companies are always watering down products to hit certain price points. When that happens you know the focus of that company is price and not quality.
It's my personal opinion that the reason you hear so much about resveratrol and green tea is because they cost less to buy and market than Ecklonia Cava. When I make things I always look for the best and that's the original 99% pure Ecklonia Cava found in Swanson's new Ecklonia Cava Extract supplement.