Swanson Certified Organic Aromatherapy Oils
Swanson® Certified Organic Aromatherapy Oils
Introducing Swanson Aromatherapy—a new line of pure, certified organic essential oils that bring the aromas of nature into your home. Fill your rooms with luscious fragrance or personalize and enhance your massage oils and personal care products… let Swanson Aromatherapy open your senses, and discover the holistic benefits pure aromatic oils can bring to you and your environment.
Eucalyptus
A clarifying oil characterized by its camphorous, penetrating aroma, eucalyptus makes a great addition to baths and steams. Eucalyptus oil is said to purify the air and add an eye-opening, refreshing fragrance to your home.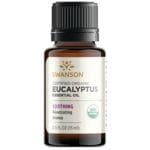 SWAR008 •
0.5 fl oz (15 ml) Liquid
MSRP

$8.99

Was

$6.49

$4.86
Lavender
Hands down the most popular aromatherapy oil, lavender is known for its soothing, floral scent. Lavender is often associated with French perfumes; however, aromatherapists recognize Bulgarian Lavender as having a crisper, sweeter aroma.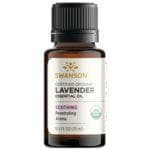 SWAR001 •
0.5 fl oz (15 ml) Liquid
MSRP

$16.49

Was

$10.39

$7.79
Lemon
Our pure Italian Lemon oil is sure to revitalize your life with its fruity, sweet and crisp fragrance. Lemon oil combines wonderfully with eucalyptus oil for atmospheric enhancement and can be added to home cleaning products and personal care formulas for a fresh, cleansing scent.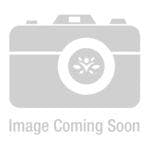 SWAR002 •
0.5 fl oz (15 ml) Liquid
MSRP

$11.99

Was

$7.29

$5.46
Peppermint
The eye-popping aroma of pure peppermint oil is sure to wake up your senses! A popular addition to skin care formulas, household products and diffusion blends, peppermint oil is soothing for both your body and your environment.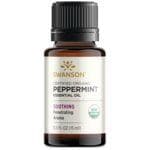 SWAR003 •
0.5 fl oz (15 ml) Liquid
MSRP

$10.99

Was

$7.59

$5.69
Rosemary
Fresh and herbaceous with a bit of woody balance, rosemary oil is considered by aromatherapists to be a purifying herbal essence suitable for massage applications, atmospheric fragrances and as a component in skin care products.
SWAR006 •
0.5 fl oz (15 ml) Liquid
MSRP

$9.99

Was

$6.29

$4.71
Sage
Sage oil is among the most pungent essential oils used in aromatherapy and should be used with care. Just one drop is all you need! Its scent is warm, spicy and camphorous.
SWAR005 •
0.5 fl oz (15 ml) Liquid
MSRP

$14.99

Was

$9.99

$7.49
Spearmint
With a softer and sweeter aroma than its potent counterpart peppermint, spearmint is a refreshing fragrance. Try a drop or two in bathwater, or blend with other oils for massage or personal care applications.
SWAR007 •
0.5 fl oz (15 ml) Liquid
MSRP

$11.99

Was

$7.59

$5.69
Aromatherapy Accessories
Use Swanson® Certified Organic Aromatherapy Oils with Aura Cacia diffuser and refill pads to fill your room with luxurious fragrances.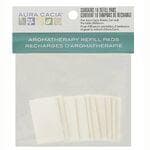 Retail

$3.99

Was

$2.75

$2.47