6 Must-Have Winter Supplements from Lee Swanson
The 6 Must-Have Winter Supplements from Lee Swanson
Dear Friends and Valued Customers:
For many of us, winter can mean long months of cold weather, less exercise and little sunshine—all of which can adversely impact our immune system. While consuming a healthy diet and getting regular exercise are necessary practices for maintaining optimal health, I'm proud to present my regimen of six must-have supplements for winter to offer additional support for bolstering your immune system function during these challenging months. We've created special sizes that provide a 60-day supply to help you get through the winter. Buy them individually or pay just one low price for all six in our combo pack!
As always, I wish you the very best of health,
Active One without Iron
The Harvard School of Public Health calls a multivitamin a "good insurance policy." During the more challenging winter months, a little help goes a long way. Sometimes the best approach means simply covering the basics. Our Active One multivitamin without iron contains the best of the best: a complete range of 19 essential vitamins and minerals, including a B-complex for stress support and antioxidants like beta-carotene to help combat free-radical damage. Active One is specifically formulated for those with high energy demands to help you through the tough challenges that can come with winter months. Just one capsule per day makes it easy to get the added nutrition you need—no matter what time of year.
Echinacea
Plant power to the rescue! The beautiful and common purple coneflower found in many gardens is the well-known herb echinacea. Indigenous to North America, the species Echinacea purpurea is a powerful antioxidant popularly believed to support the body's defense system. Echinacea contains several phytonutrients that may be responsible for its immune supporting effects, including polysaccharides, glycoproteins, alkamides and flavonoids. The purpurea species contains potent amounts of polysaccharides, powerful, water-soluble phytonutrients primarily found in the spiky head and petals of the plant. Our Echinacea contains 400 mg per capsule, convenient for taking on the go, and at just the right price.
Cod Liver Oil
There have been a number of important proponents of the health benefits of cod liver oil throughout the years: Hippocrates, dentist and anthropological researcher Weston A. Price, British physician John Hughes Bennet and your grandmother—who believed that a teaspoon a day could keep you healthy and strong. Although there are 90 different types of cod, our Cod Liver Oil comes from ecoMarine® Norwegian cod liver oil, a superior quality oil that not only provides 1,250 IU of vitamin A and 135 IU of vitamin D, but also valuable fatty acids eicosapentaenoic acid (EPA) and docosahexaenoic acid (DHA). Taking cod liver oil during the winter months helps provide a natural source of vitamin D when the sun isn't available.
(
10
)
SW1513 •
1,250 IU A/135 IU D 180 Sgels
Retail

$6.99

Swanson

$4.99
High Potency Dry Vitamin D-3
If your wintertime fatigue just won't go away, chances are you may be deficient in vitamin D. It's unique among vitamins because it's made in our skin, kidneys and livers from exposure to the sun. During the dark winter months it's difficult to get vitamin D from the sun's rays, which makes getting vitamin D from another source even more important. Many researchers agree that getting enough vitamin D supports proper immune system functions. Vitamin D can be difficult to get from a regular diet, even when eating fish and eggs. Suggested levels of recommended vitamin D intake have changed. In 2010, the Institute of Medicine raised the RDI from 200-400 IU to 600-800 IU. Our vitamin D goes beyond these new basic maintenance guidelines by providing a potent 1,000 IU per capsule.
(
31
)
SW1510 •
1,000 IU 60 Caps
Retail

$2.49

Swanson

$1.49
PureWay-C®
Vitamin C has long been lauded for its impressive ability to support the immune system. Oftentimes we get our daily vitamin C from fruits and veggies like oranges or bell peppers, but during times when you need more, try our patented PureWay-C Vitamin C, which uses an advanced delivery method to increase absorption and utilization of vitamin C within the body. PureWay-C has been shown to scavenge an astonishing 93% of free radicals. This formula uses lipid metabolites to alter a normally water-soluble vitamin into one that's fat-soluble for maximum bioavailability. With 100 mg of citrus bioflavonoids and 500 mg of vitamin C, PureWay-C is the superior choice for immune support you need during the winter months.
Zinc & C Lozenges
An immunity marriage made in heaven! Both zinc and vitamin C help keep the body's immune system working properly. Vitamin C increases the production of lymphocytes, which play an important part in immune function. Zinc helps cells and tissues defend against invaders. Both help the body produce white blood cells. Without an adequate supply of zinc, the immune system can get depressed. Because there's no real way to store this mineral, the body must have a constant supply to keep from getting depleted. Our lozenges provide 25 mg of zinc and 100 mg of vitamin C each. Plus natural orange and lemon flavors help you avoid the yucky taste that can sometimes come from zinc.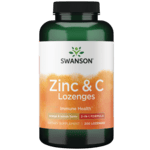 (
24
)
SW840 •
25/100 mg 200 Lozenges
Retail

$9.99

Swanson

$5.49