Natural products are gaining popularity, especially when it comes to skincare. People are becoming more aware of the ingredients in various products, for better or worse.
Jojoba oil (ho-HO-ba) is one of many natural products with increased attention lately for its ability to multi-task.
Contrary to popular belief, jojoba oil isn't oil; it's actually a liquid wax. Jojoba oil comes from seeds found on a desert shrub in Arizona, Mexico and California.
Jojoba oil resembles sebum, the natural oil your body produces. Jojoba oil can help slow down your body's natural rate of sebum secretion to restore your skin's pH balance. Because of this, jojoba oil is helpful whether you have normal, oily, dry or combination skin.
Jojoba oil is full of essential fatty acids, antioxidants, vitamin E and sterols. It delivers a high amount of ceramides, which help regulate the hydration of skin cells. Jojoba oil is safe for most people when applied to the skin, but it is not safe to ingest.
Here are 10 top common uses for jojoba oil and my results with trying some of them out. I tested out Desert Essence Organic Jojoba Oil and Swanson Premium Organic Jojoba Oil.
Scroll to the bottom to see three popular DIY recipes using jojoba oil as well.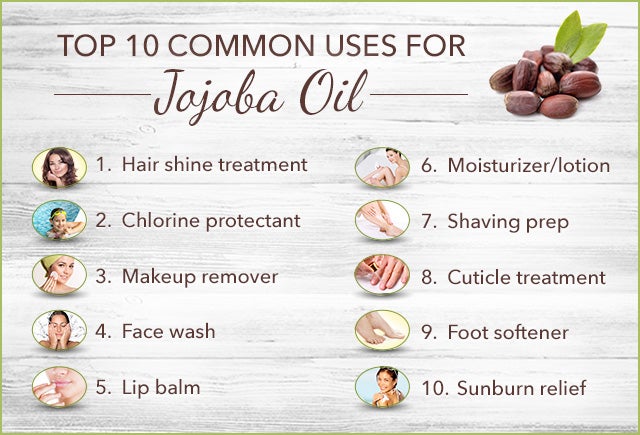 Top 10 Common Uses for Jojoba Oil
Jojoba Oil for Hair
Tip: Apply a few drops of jojoba oil all over your hair, or just on the ends, to smooth the appearance of dry, frizzy hair. It also helps seal the natural moisture found in hair shafts.
My experience: My hair looked shinier right away and not at all greasy. It did tame down the frizz a bit, but not completely. I concentrated the jojoba oil more on the ends of my hair versus the roots. I didn't notice greasy or oily residue. This isn't something I'd recommend doing every day, but every few days or once a week should be just fine.
Tip: Apply three to four drops to your hair before swimming. This will close your hair cuticles. It prevents chemicals from stripping your hair color, and it also prevents your hair from drying out.
Jojoba Oil on Your Face
Tip: Apply jojoba oil to a cotton round, and swipe it gently over and around eyes to remove makeup. Jojoba oil is gentle enough for your sensitive eye area but powerful enough to remove makeup. As an added bonus, it can help make your lashes stronger and longer with continued use.
My experience: The jojoba oil did a good job at removing my eye shadow and eyeliner but not my mascara. I chose to follow up with a damp cotton round with water, and that worked well to help remove more makeup. This works, but it takes quite a bit longer than other removers I've used in the past. I'm excited to see how or if it affects my eyelashes with continued use!
Tip: Apply jojoba oil to a cotton round, and spread it all over your face. Then moisten another cotton round with water, and go over those same areas. Proceed with your usual face wash.
My experience: I decided to try this at night and sometimes in the morning. The excess product that didn't soak into my skin rinsed off fine with a water-soaked cotton round. I think it did a good job of breaking down the makeup that was on my face without being too harsh like other products can be. I think it's important to follow up with a cleanser because this alone didn't remove all my makeup, but I expected that. My face feels softer each time I do this, so I'll definitely continue.
Tip: Apply a drop or two of jojoba oil to dry, chapped lips to protect them. This will be especially helpful against the drying effects of cold and wind. The jojoba oil will dry quickly on your lips, but be careful not to ingest it.
Jojoba Oil for Skin
Tip: You can use jojoba oil anywhere from head to toe. Apply it right after a bath or shower while skin is still damp to help seal in moisture.
My experience: Jojoba oil works great as a moisturizer, especially on the face, and it didn't take long to absorb. I get oily in my T-zone, and while this helped control oil, I had to keep using blotting tissues for the first week or two. I didn't have to use them as much as before, though, so I think the oil will get under control the more consistently I do this. Use less product than you think you need, though, on both the face and body. A little bit goes a long way!
Tip: Jojoba oil helps prep skin for shaving and prevent razor burns. You can also use it after shaving to soothe and moisturize the skin.
Tip: Rub a drop or two of jojoba oil on your nail beds to help moisturize dry cuticles and hands. Once a week, soak nails in warm water for five to 10 minutes before applying the oil for greater absorption.
My experience: I noticed a big difference after trying this only once. My hands and cuticles felt so soft, and I will definitely keep this up and see how it works long term.
Tip: Apply a few drops of jojoba oil to help your feet become softer and less calloused. For a more intense foot treatment, apply the oil, put socks on and leave them on for an hour.
Tip: Rub a few drops wherever you have sunburn on your skin to lighten the pain and redness. You can also mix it with aloe vera and vitamin E to make an even more soothing balm.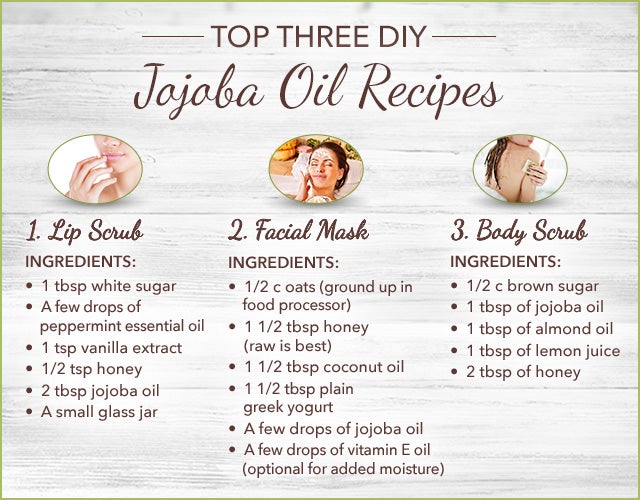 Top Three Jojoba Oil DIY Beauty Recipes
Ingredients:
1 tbsp white sugar
A few drops of peppermint essential oil
1 tsp vanilla extract
1/2 tsp honey
2 tbsp jojoba oil
A small glass jar
Directions: Mix the ingredients together until they have a wet sugary consistency.
Ingredients:
1/2 c oats (ground up in food processor)
1 1/2 tbsp honey (raw is best)
1 1/2 tbsp coconut oil
1 1/2 tbsp plain Greek yogurt
A few drops of jojoba oil
A few drops of vitamin E oil (optional for added moisture)
Directions: Mix honey and Greek yogurt together in one bowl. Stir coconut oil in a separate container. Blend oats in a food processor until broken up, and then add the honey, yogurt and coconut oil. Move the blended ingredients into a separate bowl, and add a few drops of vitamin E oil and jojoba oil. Grab a handful of the mask, and rub it gently all over your face. The oats will fall as you rub, so use it over the sink or garbage. Leave the mask on your face to 20 minutes, and then rinse it off with a damp warm towel or cloth.
Ingredients:
1/2 c brown sugar
1 tbsp of jojoba oil
1 tbsp of almond oil
1 tbsp of lemon juice
2 tbsp of honey
Directions: Combine ingredients in a bowl, and mix well. Massage gently onto the skin, and rinse with warm water.
Jojoba oil is one of the newest natural, multi-purpose oils gaining popularity, and for good reason. Have you ever tried it, and what have you used it for?