Lutein
Seeing is Believing: Dr. Jeffrey Anshel Discusses the Importance of Lutein for Healthy Vision
Dr. Anshel maintains his own private practice, is the principal of Corporate Vision Consulting, a Fellow of the American Academy of Optometry and President of the Ocular Nutrition Society
SWANSON: What is lutein and what role does it play in the eye?
Dr. Anshel: Central vision, the vision we use on a daily basis to perform tasks such as driving, reading and recognizing the world around us, is controlled by a small area in the retina called the macula. Lutein, a yellow-orange carotenoid that is especially important for vision health, is concentrated in the macula where it forms a visible yellow spot that works like a pair of internal sunglasses. This vital substance protects against damaging light exposure by neutralizing free radicals.
SWANSON: Why is lutein important?
Dr. Anshel: Over time, exposure to environmental and biological stressors diminishes the existence of lutein in the eyes, leaving them vulnerable to deterioration. This can ultimately manifest as age-related vision changes and, unfortunately for many people, eventual blindness. However, studies have indicated that lutein may help protect against the devastating effects of age-related vision decline.
SWANSON: Why is lutein supplementation crucial?
Dr. Anshel: The problem is that the human body cannot produce lutein, and recent studies show that only one-third of American adults obtain sufficient amounts from their diets. In fact, in order to obtain higher levels of lutein, one would have to consume one cup of kale or at least 8 cups of broccoli per day, every day in order to obtain the recommended amounts of this vital carotenoid. It's because of this that most people are in need of lutein supplementation. Long-term supplementation with lutein has been associated with multiple eye benefits, including:
Retaining sharp vision
Helping reduce glare sensitivity
Assisting vision in dim light
Helping reduce color blurring
Preserving vision
SWANSON: Who should be supplementing with lutein?
Dr. Anshel: Although the presence of lutein decreases as a person ages, this essential nutrient is not just for the senior population. Recent and compelling research strongly suggests that lutein works best when taken from an early age as the effects are thought to be cumulative. A regimen of exercise and a healthful diet and lifestyle in conjunction with lutein supplementation may contribute greatly to healthy vision over a lifetime.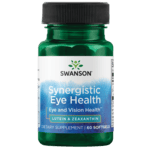 (
127
)
Retail

$15.99

Swanson

$9.99